Previous Page
Facts
COVID-19 coronavirus: New procedures are in place for arriving yachts – see Biosecurity for details.
Barbados is the easternmost island of the Lesser Antilles, situated in the western area of the North Atlantic and 100 km (62NM) east of the Windward Islands and the Caribbean Sea.
The population of Barbados is 286,000, but only 7,000 of those live in the capital Bridgetown. It is predominantly a Christian country.
Barbados became a republic in November 2021.

The currency is the Barbadian or Bajan Dollar. For details see General Info.
Barbados observes Atlantic Standard Time (UTC-4).
The climate in Barbados is considered to be moderately tropical and is generally sunny and warm with only brief occasions of intense rain. See Weather section below for more details.
The only cruising area is along the sheltered west coast; the east coast is rocky and exposed to the Atlantic breakers and should be given a wide berth.
While Barbados is the nearest landfall for yachts crossing the Atlantic on the trade wind route, many give it a miss heading instead for Saint Lucia, Grenada or Antigua which have a more developed yachting infrastructure. Barbados is, however, addressing this problem, and clearance and docking facilities are improving all the time.
Yachting facilities in Carlisle Bay, Bridgetown, the main anchorage, are basic and clearing in here can be complex. Repair facilities, however, are good. For more details on yachting services see Yachting Essentials.
There is a marine facility at Port St Charles on the NW coast of the island. Centered around a man-made lagoon, this is a deluxe development catering primarily for super-yachts, but yachts who find the approach to Barbados much better around the north end can clear in here.
Security
Overall Crime and Safety
Barbados has a lower level of crime than the rest of the Caribbean and any crimes committed are likely to be of a petty nature.
Specific Areas of Concern:
Many tourists in Barbados complain about being harassed by people selling narcotics, which are illegal in the country. Drug-related violence, however, is usually confined to drug dealers and their associates, especially in more populated tourist areas that also tend to have a higher level of security.
Road Safety: In general, travel outside of tourist areas should be undertaken with caution, especially at night, due to the prevalence of unmarked and unlighted roads.
Maritime Issues:
Based on reports to Noonsite from cruisers, petty theft from yachts is on the rise in the Caribbean in general. Cruisers should take basic safety precautions and use common sense when leaving the boat or going ashore at night. Dinghy thieves operate throughout the Caribbean and the best advice is to place your dinghy on deck and chain it overnight.
The Caribbean Safety and Security Net ([email protected]) provides information by anchorage or by island, so sailors can plan their cruising in the Caribbean with an eye to appropriate behavior and precautions wherever they decide to go. Should you have suffered a boarding, robbery or attack on your yacht or have information about a yachting-related security incident, go to the CSSN homepage and click on the "Report an Incident" icon. The associated form is quick and simple to complete and ensures that all the necessary details are reported. The CSSN is the most comprehensive source of Caribbean security incidents against sailors. Remember, it is every cruiser's responsibility to ensure that incidents are reported. Also, cruisers can subscribe to e-mail alerts, follow on facebook and twitter and listen to the SSB Voice Service.
Be sure to check related security reports for Barbados.
Emergency Numbers:
See General Info for more details.
Last updated:  November 2018
Courtesy Flag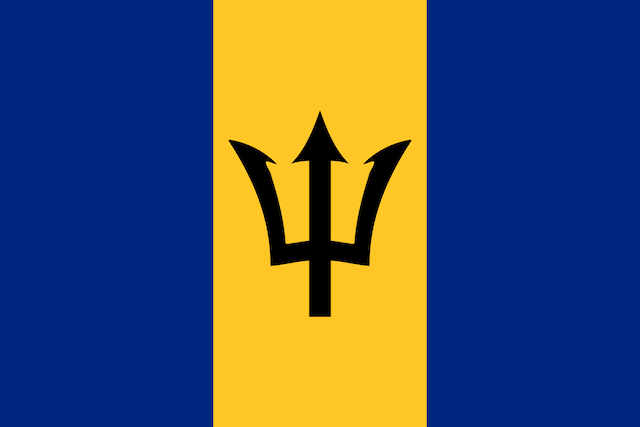 YachtFlags.com offers a discount to Noonsite members.
YachtFlags.com provides high quality courtesy flags that are manufactured in durable Knitted Polyester fabric. Knitted so that the fabric itself does not deteriorate in the constant movement that marine flags are usually exposed to, and polyester so that the flag does not weaken in the strong UV-light usually found in the main sailing areas of the world.
Use the coupon code NOONSITE_5A2B when checking out to get 10% off today.
Buy Now On YachtFlags.com
Places