Previous Page
Facts
COVID-19 coronavirus: New procedures are in place for arriving yachts – see Biosecurity for details.
Djibouti is located in the Red Sea, opposite Yemen, and is a small country of just 23,000 sq km.
The population is made up of Somalis (60%) and Afars (35%) and in the second half of the 19th century became a French colony (called French Somaliland) which gained independence in 1977. Djibouti port is the main supply route for land-locked Ethiopia.
Djibouti is a convenient port of call for both east or westbound yachts. Those bound for the Mediterranean arrive in Djibouti during the NE monsoon, mainly between January and March.
The Djibouti authorities are keen to promote the area and welcome visiting yachts. It is straightforward to gain permission to cruise the coast and obtain a cruising permit. Exploring the Gulf of Tadjourah and Ghoubet Al Khareb should not be missed.
Diving here is excellent as industrial fishing is banned and the coral reefs are healthy. It also helps that the water temperature is close to 30 degrees. Between November and January the coast if frequented by the 40m long whale-shark.
Djibouti sits on the Afar Triple Junction where the African, Somali and Arabian tectonic plates meet. As a result, the scenery is spectacular with volcanic rock, lava flows, hot springs, salt lakes, petrified forests, and an almost extra-terrestrial landscape.
The French maintain a naval base in the port which means that provisioning is good, better than Aden, although as the majority of goods are imported they tend to be more expensive.
Repair facilities for yachts are very limited, although you may be able to find a few workshops capable of carrying out simple repairs.
Lac Assal is a saline lake located 155 m below sea level and the world's largest salt reserve. It is connected to the sea by a subterranean channel.
Security
Cruisers report that the Djibouti port area and city are very safe and the locals friendly.
Current security advice is to check a travel advisory site such as the UK FCO website.
It is advised to avoid areas near the border with Eritrea.
Sailing within 1600 km (1,000 miles) of the Somalian coast is not advisable.
Last updated: November 2019
Weather
It can be very, very hot in Djibouti, especially from June to August, when temperatures can reach 112°F (45°C). The Khamsin wind blows from the desert bringing dust. October to April is a little cooler and the winds are mostly easterly.
For links to free global weather information, forecast services and extreme weather information see the Noonsite Weather Page.
Courtesy Flag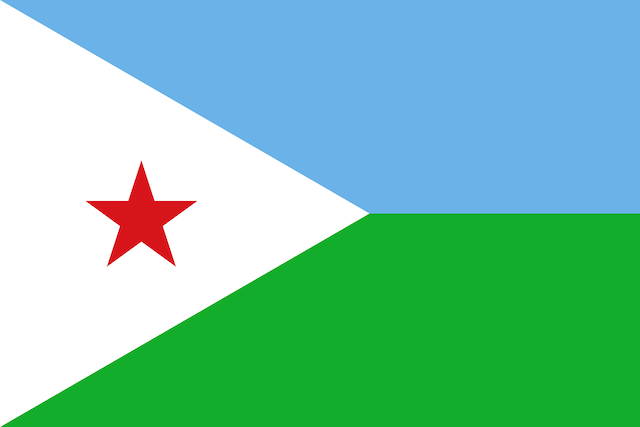 YachtFlags.com offers a discount to Noonsite members.
YachtFlags.com provides high quality courtesy flags that are manufactured in durable Knitted Polyester fabric. Knitted so that the fabric itself does not deteriorate in the constant movement that marine flags are usually exposed to, and polyester so that the flag does not weaken in the strong UV-light usually found in the main sailing areas of the world.
Use the coupon code NOONSITE_5A2B when checking out to get 10% off today.
Buy Now On YachtFlags.com
Places