Previous Page
Facts
COVID-19: Entry protocols for yachts have been affected by the pandemic. See the Biosecurity section for details.
Saint Lucia is part of the Windward Islands and a good base from which to explore the rest of the Lesser Antilles.
Cruising attractions include excellent facilities at Rodney Bay Marina in the north and in the well-protected port of the capital Castries, the scenic anchorage of Soufrière Bay overlooked by The Grand and Petit Pitons and the delightful, yet crowded, the landlocked harbor of Marigot Bay.
The government has actively encouraged the establishment of yachting related businesses, aiming to make Saint Lucia one of the prime yachting centers in the Caribbean.
Getting work done here: Rodney Bay has a well-service boatyard. Good electrical, mechanical and electronic contractors, several of whom work as service agents for major manufacturers. Note that the Christmas period is a busy time with plenty of public holidays, so it's advisable to schedule work outside of this time.
Provisioning: Reasonable value for money. Many imported US products. Fresh produce markets in main towns and supermarkets near all ports.


Security
Overall Crime and Safety:
Although boardings and theft from yachts in the Caribbean are not unusual, Saint Lucia does suffer its fair share of incidents, particularly in Rodney Bay and Vieux Fort.
Specific areas of concern:
Cruisers should take basic safety precautions and use common sense when leaving the boat or going ashore at night. This includes locking your boat – securing all hatches and doors and stowing anything of value out of sight (in particular loose deck items of value). Avoid wearing anything of value ashore. Keep a record of serial numbers/photos stored in a secure place for purposes of investigation and proof of ownership should a theft occur. Cruisers have reported purse snatching attempts in broad daylight in the past.
See Related User Comments for more information on security incidents experienced by cruisers.
Be sure to also check related security reports for St. Lucia.
Maritime Issues:
Thefts of locked dinghies and outboards from yachts anchored off Reduit Beach, Gros Islet, at the Gros Islet dinghy dock, Pigeon Island and in the inner lagoon at Rodney Bay continue to be reported. Best advice is to place your dinghy and outboard on deck and chain them overnight and NEVER leave your dinghy (and items in the dinghy) unlocked when leaving it ashore.
Incidents of theft and attempted theft from yachts continue to be reported to CSSN, both inside and outside the lagoon in Marigot Bay.
If heading to Soufriere to see the Pitons and Bat Caves, be aware that this part of the Island has suffered security issues in the past and continues to do so. Night boardings and burglaries have been a problem in the past, the latest reported in February 2020 (see below) where the boat was boarded by armed men and the skipper assaulted. In 2018 security at the dinghy dock was improved and security wardens were hired. Lock up well at night or if going ashore and it's strongly recommended to employ a watchman if leaving the boat unattended. Also in Soufriere, in March 2016, cruisers were 'mugged' at the Hummingbird Resort dock when returning back from dinner to board their dinghy to go back to the boat.
Check related security reports for St. Lucia for details.
Daytime burglaries continue to be reported by cruisers leaving their boats at anchor in Vieux Fort while traveling to the airport to check-in with immigration and/or collect guests from arriving flights. It is recommended that at least one crew member be left on board at all times and anything of value be concealed out of sight. Overnighting in the port is not a good idea. Sadly, a British cruiser was killed defending his wife against armed borders in Vieux Fort in January 2014 (finally sentenced to imprisonment in March 2020).
The Caribbean Safety and Security Net provide information by anchorage or by the island. If you experience a boarding, robbery or attack on your yacht or have information about a yachting-related security incident, go to the CSSN homepage and click on the "Report an Incident" icon.
Latest Reported Incidents:
Soufriere, February 2020: Solo sailor was boarded by armed men, assaulted and robbed.
Rodney Bay, January 2020: Dinghy and outboard theft.
Rodney Bay, Gros Islet, November 2019: Dinghy and outboard theft.
See Security Reports for details of these incidents and more incident reports.
Last updated: March 2020
Weather
The island has constant trade winds with only minor differences through the year. December to June is the best time of year when it is less humid, and there is no risk of hurricanes. The hurricane season is from June to November.
Weather information for Saint Lucia and the Windward Isles: https://www.weathercarib.com
See the Caribbean National, Regional and Island Weather Websites report for more.
For links to free global weather information, forecast services and extreme weather information see the Noonsite Weather Page.
Courtesy Flag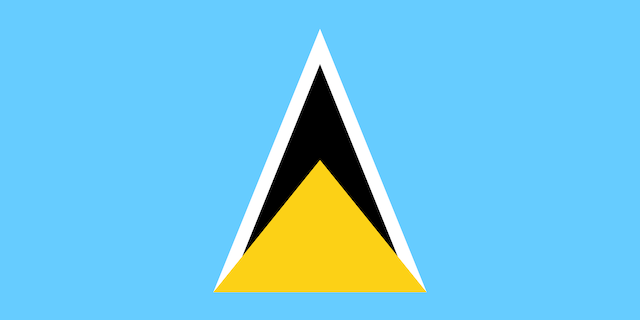 YachtFlags.com offers a discount to Noonsite members.
YachtFlags.com provides high quality courtesy flags that are manufactured in durable Knitted Polyester fabric. Knitted so that the fabric itself does not deteriorate in the constant movement that marine flags are usually exposed to, and polyester so that the flag does not weaken in the strong UV-light usually found in the main sailing areas of the world.
Use the coupon code NOONSITE_5A2B when checking out to get 10% off today.
Buy Now On YachtFlags.com
Places