Previous Page
Facts
Saint Lucia is part of the Windward Islands and a good base from which to explore the rest of the Lesser Antilles. Situated between the islands of Martinique and Saint Vincent, Castries is the capital city and the main port located on the northwest coast.
St. Lucia is the largest of the English-speaking Windward islands with a population of 183,629 as of 2020.
English is the official language, and French patois, a Creole dialect, is also spoken.
The Eastern Caribbean dollar (EC$) is the island's currency. See money for more details.
UTC−4 (AST) is observed all year in St. Lucia.
The weather in Saint Lucia stays consistently warm throughout the year. The busiest time to visit Saint Lucia is from December to April during the driest season. The rainy season in Saint Lucia is from June to December.
The island is mountainous and lush, with tropical rainforest in the interior and cultivated land on its coastal slopes. The area around Soufriere and the Pitons is impressive with stunning anchorages and the island has a number of beautiful white sand beaches.
Cruising attractions include excellent facilities at Rodney Bay Marina in the north and in the well-protected port of the capital Castries, the scenic anchorage of Soufrière Bay overlooked by The Grand and Petit Pitons and the delightful, yet crowded, the landlocked harbor of Marigot Bay.
The government has actively encouraged the establishment of yachting related businesses, aiming to make Saint Lucia one of the prime yachting centers in the Caribbean. See Yachting Essentials for more details.
Security
Overall Crime and Safety:
Although boardings and theft from yachts in the Caribbean are not unusual, Saint Lucia does suffer its fair share of incidents, particularly in Rodney Bay, Vieux Fort and most recently in Soufriere and Anse Canaries.
Specific areas of concern:
Cruisers should take basic safety precautions and use common sense when leaving the boat or going ashore at night. This includes locking your boat – securing all hatches and doors and stowing anything of value out of sight (in particular loose deck items of value). Avoid wearing anything of value ashore. Keep a record of serial numbers/photos stored in a secure place for purposes of investigation and proof of ownership should a theft occur. Cruisers have reported purse snatching attempts in broad daylight in the past.
There have been four reported armed robberies or attempted armed robberies on yachts at anchor at Soufriere and Anse Canaries since July 2022.
See security reports for St. Lucia and Related User Comments below for more information on security incidents experienced by cruisers.
Maritime Issues:
Thefts of locked dinghies and outboards from yachts anchored off Reduit Beach, Gros Islet, at the Gros Islet dinghy dock, Pigeon Island and in the inner lagoon at Rodney Bay continue to be reported. Best advice is to place your dinghy and outboard on deck and chain them overnight and NEVER leave your dinghy (and items in the dinghy) unlocked when leaving it ashore.
Incidents of theft and attempted theft from yachts continue to be reported to CSSN, both inside and outside the lagoon in Marigot Bay.
If heading to Soufriere to see the Pitons and Bat Caves, be aware that this part of the Island has suffered security issues in the past and continues to do so. Night boardings and burglaries have been a problem in the past, but in the latest incident reported by CSSN (August 2022), armed assailants attacked crew members of a yacht that was on a mooring. See Latest Reported Incidents below.
Dinghy thefts continue to be reported to CSSN and it is vital to lift, lock and secure your dinghy at all times when it is unattended. Do not leave any items on deck or in cockpits that could be easy targets for would be thieves.
Lock up well at night or if going ashore and it's strongly recommended to employ a watchman if leaving the boat unattended. Also in Soufriere, cruisers were 'mugged' at the Hummingbird Resort dock (in March 2016,) when returning back from dinner to board their dinghy to go back to the boat.
Daytime burglaries continue to be reported by cruisers leaving their boats at anchor in Vieux Fort while traveling to the airport to check-in with immigration and/or collect guests from arriving flights. It is recommended that at least one crew member be left on board at all times and anything of value be concealed out of sight. Overnighting in the port is not a good idea. Sadly, a British cruiser was killed defending his wife against armed borders in Vieux Fort in January 2014 (finally sentenced to imprisonment in March 2020).
The Caribbean Safety and Security Net provide information by anchorage or by the island. If you experience a boarding, robbery or attack on your yacht or have information about a yachting-related security incident, go to the CSSN homepage and click on the "Report an Incident" icon.
Latest Reported Incidents:
Rodney Bay, July 2022: Dinghy stolen from yacht at anchor.
Soufriere, July 2022: In-water and not locked dinghy stolen from yacht.
Soufriere, February 2020: Solo sailor was boarded by armed men, assaulted and robbed.
Rodney Bay, January 2020: Dinghy and outboard theft.
Rodney Bay, Gros Islet, November 2019: Dinghy and outboard theft.
Last updated: October 2022
Weather
The island has constant trade winds with only minor differences through the year. December to June is the best time of year when it is less humid, and there is no risk of hurricanes. The hurricane season is from June to November.
Weather information for Saint Lucia and the Windward Isles: https://www.weathercarib.com
See the Caribbean National, Regional and Island Weather Websites report for more.
For links to free global weather information, forecast services and extreme weather information see the Noonsite Weather Page.
Courtesy Flag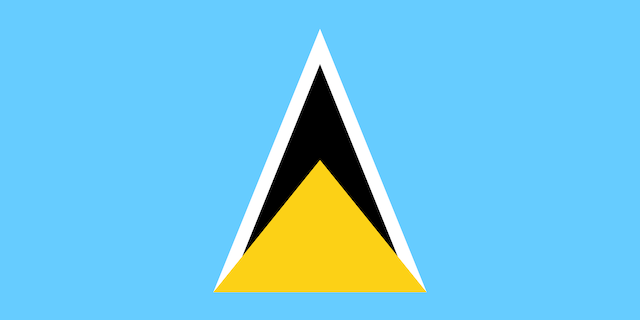 YachtFlags.com offers a discount to Noonsite members.
YachtFlags.com provides high quality courtesy flags that are manufactured in durable Knitted Polyester fabric. Knitted so that the fabric itself does not deteriorate in the constant movement that marine flags are usually exposed to, and polyester so that the flag does not weaken in the strong UV-light usually found in the main sailing areas of the world.
Use the coupon code NOONSITE_5A2B when checking out to get 10% off today.
Buy Now On YachtFlags.com
Places