Previous Page
Facts
COVID-19: Entry protocols for yachts have been affected by the pandemic. See the Biosecurity section for details.
The two ports of entry, Massawa and Assab are located at either end of the country – Massawa in the south and Assab in the north. Note however that Assab is closed to sailing yachts, except in emergencies, so Massawa is the only clearance port available to recreational vessels at this time.
It used to be easy to clear in at one, cruise the coast and then clear out at the other, however it appears that cruising permits are difficult to get hold of in 2019.
There are restricted ports and areas and these should be confirmed with the authorities when clearing into Eritrea. For example, Harmil is a military outpost and should not be visited by yachts. It is recommended not to venture too close to the coast where there are military installations.
There is a lack of navigation aids along the Eritrean coast so night sailing close to shore is not recommended.
Massawa is the largest natural deepwater harbor on the Red Sea. Within it lies the Dhalak Archipelago, a group of hundreds of islands and islets, which is a protected Marine Park. This area offers beautiful winter cruising, however, unfortunately, the islands are "out of bounds" currently to foreign yachts.
An interesting side trip for those stopping in Massawa is to the inland capital of Asmara.
Repair facilities are limited, although there are small boatyards and workshops that will be able to carry out simple repairs.
Security
Overall Crime and Safety:
Cruisers report feeling very safe here when traveling ashore and surprised by the friendliness of the locals. Crime that is likely to affect foreigners in Eritrea is limited to pickpocketing and petty theft. The risk is higher in Asmara.
Although there's no recent history of terrorism in Eritrea, attacks can't be ruled out.
For travel advisories, see the following websites:
Specific areas of concern:
The FCO advise against all travel within 25km of Eritrea's land borders, with the exceptions of: the towns of Senafe and Tessenei; the border crossings at Debay Sima – Burre, Serha – Zalambessa and Kesadika (Adi Kuala) – Rama, plus the main paved roads leading to those crossings. All border crossings between Ethiopia and Eritrea are currently closed.
In most places, the border is neither marked nor obvious.
All foreign nationals must apply in advance for a travel permit to leave Asmara.
Maritime Issues:
Military ports and coastal installations are restricted areas and should be well-avoided by cruising boats. Keep well offshore.
Harmil, position 1629.58N 04008.32E, is a military outpost and should be well-avoided.
If you get too close, it's likely you will be approached by the Eritrean Coastguard and questioned (see incident reported below). See restrictions for more details.
Reported Incidents:
April 2020: Red Sea, Eritrea, Massawa: Turkish Circumnavigators Detained by Military
September 2019: A sailing yacht (probably moving south through the Red Sea) was boarded approximately 120nm NW of the Northern boundary of the High-Risk Area in position 1629.58N 04008.32E at 15:30 UTC. This sailing yacht called MAYDAY on channel 16, most likely because they mistook Eritrean Coast Guard officials for pirates. This position is Harmil, a military outpost which should not be visited by recreational vessels. Two days later the UKMTO confirmed that the yacht was safe and proceeding to its destination.
March 2011: Australian skipper and 4 crew detained in Massawa.
April 1996: British cruising couple held on suspicion of spying.
Last updated: June 2020
Weather
Temperatures remain high on the coast, in July and August even reaching 104°F (40°C). The northern coast has a rainy season from December to February but little rain falls in the south.
For links to free global weather information, forecast services and extreme weather information see the Noonsite Weather Page.
Courtesy Flag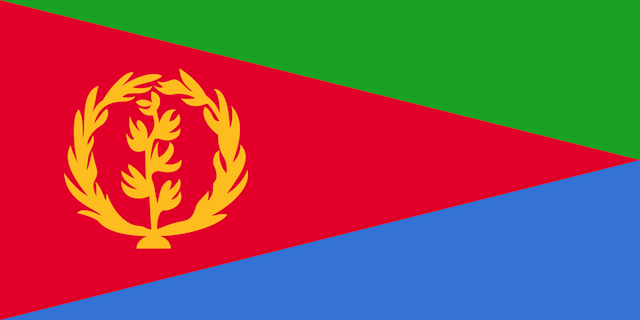 YachtFlags.com offers a discount to Noonsite members.
YachtFlags.com provides high quality courtesy flags that are manufactured in durable Knitted Polyester fabric. Knitted so that the fabric itself does not deteriorate in the constant movement that marine flags are usually exposed to, and polyester so that the flag does not weaken in the strong UV-light usually found in the main sailing areas of the world.
Use the coupon code NOONSITE_5A2B when checking out to get 10% off today.
Buy Now On YachtFlags.com
Places