Previous Page
Facts
COVID-19 coronavirus: New restrictions have been introduced for visiting yachts – see biosecurity for details.
The Solomon Islands are a double chain of islands in the Western Pacific stretching from Vanuatu to Bougainville. There are over 900 islands, the main ones being Guadalcanal, Choiseul, Malaita, New Georgia and Santa Isabel.
The Solomon Islands has a population of 611,000 people and over sixty different languages. English is the official language and pidgin is most often used between people of different language groups.
Local currency is the Solomon Island Dollar.
Solomon Islands time is UTC +11.
The Solomons tend to be hot with high humidity and quite often overcast. January to March is hot and wet while April to November is the season of the SE trades and when most boats visit. See weather for more information.
The Solomons' culture (kastoms) is rich and varied, from wood-carving to beliefs such as shark-worshipping. Many islanders still live in the traditional way. In many isolated villages one can trade with the locals to obtain fresh produce, fish, carvings and shells.
The authorities are making a determined effort to preserve this way of life and they enjoy the full support of the customary chiefs in their endeavours. Visiting yachts are welcomed in most villages, particularly by children who like to trade fruit or shells for ball-point pens, felt-tips or balloons.
Some villages will ask for payment for anchoring. Ensure that you are speaking with a village chief before offering payment. If you have an "instant camera" you may suggest taking a picture of the payment being made in case there are further questions.
While obtaining spares and marine supplies is very difficult in the Islands, there are a couple of shipyards here that can handle yachts. See Yachting Essentials for more details.
Security
Overall Crime & Safety:
Outside the big cities, the Islands are friendly and predomninantly safe, however don't let the amazing beaches and great diving lull you into false sense of security. Petty thefts from yachts occur here frequently if basic precautions are not taken. There have also been reports of robberies involving violence, handbag snatching, pick-pocketing, distraction thefts and harassment.
Political unrest can be a problem in the Solomons. Visitors should obtain the latest travel advice from their relevant government agencies and avoid areas where large crowds are gathered or demonstrations are taking place. Riots broke out in Honiara in November 2021 with rioters attempting to storm parliament and depose the PM.
For travel advisories, see the following websites:
Specific Area of Concern:
Take extra precautions in Honiara, particularly in the central market and at popular beaches close to the city. There has been a recent increase in criminal activity near the Japanese WWII Memorial. It is not recommended to visit the memorial alone. Women traveling alone are a target and should take extra care.
Maritime Issues:
Yacht-related robberies can occur, usually at night while occupants are asleep. Visiting yachts should take precautions when leaving the vessel to go ashore.
It is still not advisable to travel to rural parts of Guadalcanal, however islands that have been avoided by cruisers in recent years, in particular those in Malaita Province, are keen to see boats returning and have worked hard on improving security for visiting cruisers.
Reported Incidents:
Whilst the majority of Solomon Island villagers are helpful and friendly, there have been reports of burglaries from boats and aggressive boardings in and around Tulaghi and in Honiara and Gizo.
Opportunistic thefts have been reported around the Florida Islands and Ghizo where known "rascals" are present.
Advice from cruisers is to anchor outside villages where you are visible, do not leave anything lying loose on deck and ensure you lock all hatches at night time. Ask the chief of the village if you will be safe and ask him to please look out for your safety. Most villagers welcome yachts and appreciate your visit and will go out of their way to help you.
General Emergency Numbers:
Dial 999, find other emergency numbers here.
Useful reports on security by cruisers who have been to the Solomons:
SY Field Trip visited in 2018 and put together this informative report about security in the Solomons and PNG.
SY Adina have a list of all the anchorages they visited and advice on security from when they visited in 2015. They did a lot of research in planning their route and did not encounter any problems. Details available at www.yachtadina.co.uk/sailingnotes

SY Kelaerin's thoughts and experiences re. yacht security in PNG and the Solomons following a 2014 visit.
Last updated: November 2021
Weather
The Solomons experience high temperatures and January to March are the months of heaviest rainfall. April to November is the season of the SE trades, while the rest of the year is the NW monsoon, which is also the cyclone season. Long periods of calm weather are not uncommon among the islands.
The Western Province is reputed to be safe from cyclones.
Useful Links:

The Solomon Islands Meteorological page is http://www.met.gov.sb where you can have access to the weather forecast issued by the National Weather Office in Honiara
A useful guide to South Pacific weather resources compiled by a Noonsite contributor, Rory Garland.
For links to free global weather information, forecast services and extreme weather information see the Noonsite Weather Page.
Related Businesses
Brunei Bay Radio

Address: PO Box 2234, Bandar Seri Bagawan, Brunei, BS 8674

HF/SSB voice and e-mail services from Brunei on the NW coast of Borneo. Service area covers the NW Pacific, SE Asia, and eastern Indian Oceans... Read More
Courtesy Flag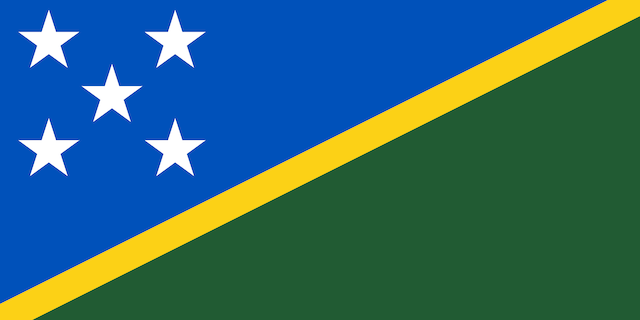 YachtFlags.com offers a discount to Noonsite members.
YachtFlags.com provides high quality courtesy flags that are manufactured in durable Knitted Polyester fabric. Knitted so that the fabric itself does not deteriorate in the constant movement that marine flags are usually exposed to, and polyester so that the flag does not weaken in the strong UV-light usually found in the main sailing areas of the world.
Use the coupon code NOONSITE_5A2B when checking out to get 10% off today.
Buy Now On YachtFlags.com
Places