Previous Page
General Info
Description:
Kingston lies on the south eastern coast of the island and is the administrative centre for the island. The village of Burnt Pine lies about 3.2 kms (two miles) to the north-west and is the commercial centre.
Position:
29° 03.63′ S, 167° 57.03′ E (Sydney Bay anchorage)
Clearance
Docking
Anchorages:
None of the anchorages can be regarded as all-weather anchorages, therefore the boat should never be left unattended and one should go ashore only in settled weather. Yachts have been lost at Norfolk Island by ignoring this warning.
When selecting anchorages on the island it does pay to seek local knowledge. A good point of contact is Dean Burrell; [email protected] or ask customs to contact him. Dean is a local boat builder with offshore sailing experience in racing, commercial and pleasure boats, but most importantly has an understanding of what yachties need and is only too happy to help.
It is also wise not to try and come into Kingston or anywhere near the island at night, as there are no lead lights or markers. There are some semi-submerged rocks around close to the island, that can not be seen unless there is some whitewash breaking around them. It is far safer to await daylight and work one's way of picking a deeper water approach.
Sydney Bay: In NW–N–NE winds this location which is off Kingston on the southern side of the island, has a safe anchorage to the W of the range marks: 29° 03.63′ S, 167° 57.03′ E. The bottom at those coordinates is flat coral heads with very little sand at a depth of 8 meters.
Anson Bay: In fresh E winds when anchoring off Kingston is not possible due to the swell, Anson Bay offers the best anchorage now that the cable station has been decommissioned. There is a good anchorage off the beach in 10m depth with sand bottom: 29° 00.7′ S, 167° 55.15′ E. Landing is often possible on the sandy beach and there is a track up to the road.
Cascade Bay: On the northern side of the island, this bay offers the best protection in SW winds and has an anchorage off the wharf where cargo is landed. A new dock was completed in 2018 and makes getting ashore easier. Local fisherman advise staying within 5 meters of the coral mole extending out from the end of the jetty when coming into the harbor by dinghy, particularly on low tide.
Ball Bay: Located on the south east side of the island, this bay offers a sound anchorage in winds from the western quadrant with a boulder beach to land on. There is a road from the beach which is well travelled if you need to hitch a ride to town.
Fresh bread and provisions are available in the small town of Burnt Pine and hitchhiking from any of the anchorages to town is easy, but let Customs know first before coming ashore. Rental cars are inexpensive.
Last updated: February 2020
Courtesy Flag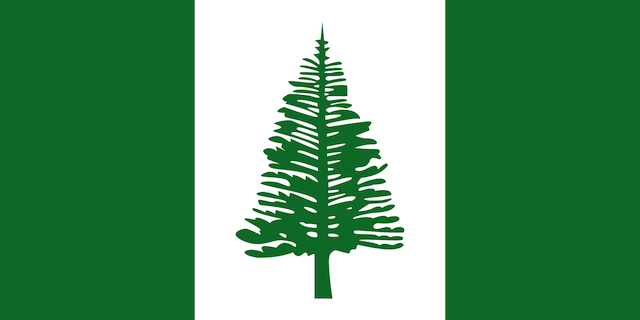 YachtFlags.com offers a discount to Noonsite members.
YachtFlags.com provides high quality courtesy flags that are manufactured in durable Knitted Polyester fabric. Knitted so that the fabric itself does not deteriorate in the constant movement that marine flags are usually exposed to, and polyester so that the flag does not weaken in the strong UV-light usually found in the main sailing areas of the world.
Use the coupon code NOONSITE_5A2B when checking out to get 10% off today.
Buy Now On YachtFlags.com
Places