Cruising in Egypt – the Low Down
Previous Page
Report Intro
Ian Bray has written up extensive notes on the practicalities of cruising in Egypt (including the Suez transit) based upon his 2012/13 cruise. He decided to join the 2012/13 Vasco de Gama rally to the Red Sea.
Report Content
Inspired in part by a glowing account of the area by Rod Heikell, we decided to join the 2012/13 Vasco de Gama rally to the Red Sea. We soon discovered that there is a paucity of reliable information available to anyone contemplating overwintering in this area and, hopefully, this account will fill many of the gaps.
Getting there
The rally started from Alanya Turkey and we then day-sailed East as far as Tasucu. However, the more obvious departure points from Turkey are Alanya itself and, if coming from the West, Finike. Either way, Cyprus is the only stopover and at around 150 miles will be an overnighter for most. We took a couple of days to rest and re-stock in Paphos, Cyprus before taking advantage of a good weather window to sail all the way to Port Said; a distance of 200miles and an easy double-overnighter for most. Alternatively, there are longer crossings from Crete and other points West.
The Suez Canal
As we approached Port Said, we called our agent, Felix, on the VHF as arranged but there was no response. We, therefore, called the Port Authority and were eventually acknowledged and told to proceed along the approach channel in line astern. We had been told by the rally organiser, Lo, that we should prevent any pilots from boarding as they were not required. However, they did pick on a few yachts, including us, and were very intimidating. We did not allow them to board but contacted Lo on the VHF who then said we should let them on! But by this time we were almost at the dock at Port Fouad and the pilots went away. (We, and every other yacht, eventually had to pay them baksheesh for doing nothing – "welcome to Egypt"!)
Port Fouad has a couple of very large mooring buoys but yachts use their own anchors and moor stern-to; holding, in soft mud with plenty of debris, is mediocre. The "marina" appears to be secure but there is a significant wash from passing traffic, particularly pilot boats, and one yacht was damaged as a result. Toilets are useable, showers are cold. You have to cross the canal on the free ferry to Port Said for supplies etc. There are no supermarkets as we know them but many small stores and stalls selling fruit and vegetables. (The stalls near the marina are not unfamiliar with tourists and will inflate prices accordingly.) The town is run-down, crowded and dirty but there are signs of its former glory and the locals are very welcoming. Unfortunately, the "welcome to Egypt" attitude is not reflected in the petty officialdom and bureaucracy that seem designed to make life difficult – for yachties at least. It is necessary to have your passport inspected every time you leave the marina and when they noticed that we had a casual visitor on board one day (whom they had allowed into the marina) she was rudely evicted.
Agents are unavoidable and fees seem to be fairly random. Obtaining visas etc. took 2 days.
Costs (for 2 people and an 11.5-metre yacht) were:-
Visitors' visas: $50
8 month's extension + re-entry visas: $50
Canal fees (11.5m yacht): $208 (depends on hull volume1, includes pilotage)
Insurance and quarantine: $10
Agent's fees: $100
Mooring fees: $105 (4 nights2)
Baksheesh for pilots3/marina staff: $10
TOTAL for 2 people: $563
Notes
1. An arcane calculation is used; when asked for draft measurement note that this excludes the keel – otherwise you will be seriously overcharged.
2. $21 for any part of a day so 4 nights = 5 days but a concession for one night – $21.
3. The pilots we did not use!
(Many things are charged in dollars and the local exchange rates are not brilliant. The best bet is probably to take a wadge of dollars with you (preferably with plenty of small denomination); we got through about $3000.)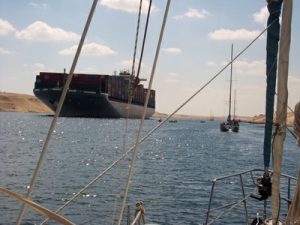 Canal Transit
You will not discover until the previous evening when you will leave as warships have priority in the canal and are not required to give more than one night's notice. Our pilots arrived at 04:30 in the morning (after advising us "not before 10:00"!). We were required to have a pilot on each boat but they did not all arrive on time and so we were playing catch up for the next 2 hours. Pilots vary greatly; some are reasonable, others definitely are not. All of them continually urge you to go faster and all expect you to provide them with a VHF. Some ask for nothing more, accept food and drink if offered and, in a couple of cases, even bring food which they share. Others are rude, demanding and interfering.
The transit is in 2 parts with a stop-over in Ismalia. Our first pilot was ok (apart from arriving late). The second went to sleep for 2 hours (the best part) and then demanded food and drink (and was a messy eater). He pushed to be allowed to steer and, when I let him, then made a mobile phone call and, distracted, nearly crashed into a channel marker. Upon arrival, he got extremely agitated when we would not jump the queue to dock at Port Suez and capped it all by complaining long and hard that his baksheesh (at $10 the same as all the other pilots') was not enough. (I thought he deserved nothing.) Actually, navigating in the canal is easy and pilots are really not required anyway.
There are rules regarding canal navigation. We could obtain no official confirmation but, through the grapevine, discovered that:-
You cannot navigate without a pilot.
The minimum speed limit is 5knots (through the water) and the maximum is 9knots.
The pilots' role is advisory, the skipper is always in command (although the pilots may well not give that impression).
The Suez Canal Authority accepts no responsibility for damage to yachts, even if that results from the advice or actions of the pilot.
Sailing in the canal and the Bitter Lakes is forbidden (even though the pilot may tell you to do so).
If you break down, you can only be towed by the Canal Authority boats and the (rumoured) fee is $1500.
Were it not for some of the pilots, the canal is a worthwhile experience. You pass some very large shipping but there is plenty of width. The Bitter Lakes (towards the Southern end) greatly exceeded our size expectations. There can be a significant tidal current (2+ Knots) South of the Bitter Lakes and suitable planning can take advantage of this. The transit takes at least 2 days as there is a compulsory overnight stop in Ismalia and, given the attraction of the town, you may well extend this.
Ismalia charges 21 a night (up to 15metres) and, although there is some wash, is better than Port Said. There are some mooring buoys, otherwise, use your anchor for stern-to. Alternatively, you can anchor off at no charge. The marina surroundings are pleasant enough and it is a Km or so walk into town. (Passports are required to leave the marina.) The town has some quite attractive areas with parks and many old colonial houses (including Ferdinand de Lessep's). There is also a good supermarket (Metro) and some half decent eateries.
At Port Suez, one berths at the Yacht and Rowing Club using shared mooring buoys to go stern–to (also $21 a night) and there are toilets and showers. There can be considerable wash from ships using the canal and 2 boats suffered damage when a warship passed exceeding the speed limit. Here we got diesel (cheap by our standards at $0.85 per litre) water and gas and some yachts bought petrol. You may not go outside the yacht club to purchase fuel (it is only about $.015 at service stations!), it must be delivered. Sadly, no opportunity to cheat us was missed: for the diesel, they attempted to charge for more than we had had; the price of the gas was inflated between quote and delivery and likewise for the petrol. (For the latter, refunds were arranged after some recriminations.)
The yacht club is actually in Port Tawfiq (a relatively affluent suburb it would seem, but with no facilities apart from a bakery and a couple of mini-marts). The town of Port Suez is about 3Km away; a very cheap bus ride. The town is busy, noisy with traffic, rather dilapidated and very dirty (in part, that is the price you pay for having no rain!) There is a good market (fruit, veg and fish) a Km or so into the town on a backstreet running parallel with the main street, to the right. The range of produce is limited but prices are fair. We found 2 small supermarkets, both at the nearer end of town and each with a limited range of stock. For the first, "Mena", take the first side street on the right past the big Vodafone shop and it is about 50 metres up on the left (and very hard to spot). The second, "The Ruwhaki Centre" is a little further up the main street, on the left. From outside, it appears to be no more than a large gift shop.
Port Suez is a good base for visiting Cairo; a cheap 2-hour bus ride. Cairo museum is well worth a visit and the pyramids are semi-compulsory. The city itself is huge, crowded, noisy and dirty. The traffic is bedlam (we found it hilarious) but they do say that a day in Cairo is equivalent to smoking 20 cigarettes!
The day before leaving, we were required to pay berthing fees and the marina manager initially insisted on payment in dollars, which we did. Other boats did not have dollars and he was eventually persuaded to take payment in Egyptian pounds. At first, he demanded an (exorbitant) exchange rate of $1 = 7LE and after much bargaining accepted $1 = 6.2LE – still pretty good for him. We would not have chosen to stay so long but that was the rally plan and, after 6 nights, we were glad to leave.
Be warned that there is a con-man (elderly, white moustache) who lurks outside the yacht club in his car (silver/grey Daewoo Lanos) and claims to work for Felix agency. He offered us a lift to the bus station and, on the way, claimed that it was 25Km away (it's actually 6) and wanted EL40 fare when the going rate is about EL15. We refused and he backed down. Another crew were "taken for a ride" and he also sold them some beer at a ludicrously inflated price. It is a shame that the authorities do nothing to stop him even though he is obviously running what amounts to an unlicensed taxi service.
Costs for 3 nights Ismalia and 6 nights Port Suez: 9 x $21 = $189
Baksheesh for pilots: 2 x $10 = $20
We did not realise until this point that one is NOT ALLOWED TO LAND ANYWHERE IN EGYPT apart from the marinas and entry ports, of which there are 5 in total in the Red Sea. (I have omitted Sharm El Sheik as there are high, additional cruising fees to go there.)
Gulf of Suez
We day-sailed down the Gulf of Suez, stopping at Ras Sudr, Ras Matarma, Marsa Thelemet, Sheratib Shoals, Sheik Riyah and South Qiesem. Except for the last day when we had fickle, mostly headwinds, the winds were fair, always in the North quarter and varying between about 8knots and 18knots most days to provide very pleasant running or broad reaching. Stronger breezes (usually off-shore) sometimes perked up during the night but only for a couple of hours or so.
All the anchorages provided good shelter from the prevailing winds. Otherwise, Ras Sudr was nothing special; Ras Matarma Northern anchorage provided a pleasant spot behind the sand spit; Marsa Thelemet is a good natural harbour; Sheratib Shoals is better than it looks although the current is strong and awkward when against the wind; Sheik Riyah is another good, natural harbour with some good reef snorkelling (but some swell did creep in) and South Qiesem is a pleasant spot with good reef snorkelling and kite surfing.
In Sheik Riyah, one of our party went to chat to the conscripts at the small military outpost. They were very friendly and offered to fetch us supplies from the "supermarket" 10Km away. This was very welcome and the costs were not too steep. On our third day there, the army captain arrived and took exception to one of our party kite surfing and, it seems, to several of us congregating in our tenders on one of the small reefs for some snorkelling. He then modified the "no landing" rule to "not allowed to use tenders" so that, apart from swimming, we were each confined to our own yachts. He commandeered a fishing boat to cruise around and tell us that and in the process collided quite hard with one of the yachts – our problem! At South Qiesem we did go ashore (the first time in 11 days) and, as it is a deserted island, got away with it. We even had a beach barbecue, with bonfire, in the evening – very pleasant.
The rally then moved onto Hurghada marina although we did not all leave on the same day.
Hurghada
The marina: this is quite plush, set within a gated complex with numerous eateries, a "souk" with tourist stuff and a small supermarket. The mooring arrangements were less than satisfactory as several of the mooring buoys were missing so we laid out our own kedge until the missing lines were found and the mooring made secure. The marineros did not seem to be very practised and one boat very nearly hit the quay wall when they were adjusting lines. Shelter is good with just a slight swell occasionally creeping in and a little wash from the tripper/dive boats which ply their trade every day. The marina charges are reasonable at $24 a day or $200 a month + tax ($220 total). The electricity supply proved reliable (cost 0.27LE per KWh) and water (apparently non-potable) is available at all berths for 13LE per 1000L). There is a toilet (singular) each for men and women together with a shower each. The facilities are clean if a little tatty but there is no toilet paper, soap or hand drying. Camping Gas refills are available via the marina office. For 3Kg, the first refill was 40EL, for no obvious reason, the second cost 50EL and on our return trip, they charged 60EL; still cheap by UK standards but annoyingly cheeky.
We were issued with the marina rules, mostly obvious but a couple of some impact: No laundry on boats (widely ignored); No boat maintenance (you can get away with a bit if quiet). There is a laundry service in the marina but there are several good ones in town (e.g.Q Express, in the street behind MacDonalds) which are less than half the price.
We found the late night "music" from some of the bars and clubs to be intrusive on a couple of nights a week; it generally stops at around 02:30 although 04:00 is not unknown. The fabulous, new mosque is near the marina and the call to prayers is very loud; the first of the day is an hour before sunrise.
Security is reasonable; the public does wander around the pontoons (which are very wide) but are largely, although not entirely, excluded at night. (Subsequently, a folding bike was stolen from one yacht.) However, we were, at last, free to wander in and out of the marina complex and into town without any passport checks or other hindrance.
The Town: Immediately outside the marina, you are back in basic Egypt. A warren of litter strewn alleyways is populated by barefoot children, goats and chickens (and cats!) and runs amongst numerous abandoned building sites and dilapidated, small, single story dwellings. Beyond, the main road has many shops, most targeted at tourists, and the back streets (mostly, unmade, dirty and littered) have many more including a few chandleries and workshops. The chandleries are targeted at the local fishing and diving boats but some useful spares for yachts can be obtained. Stainless steel work can be had in the boatyard (beyond the fish market) – avoid the place just outside the marina! I even located some good, very cheap teak in a timber merchant in the back streets.
Fuel is available although we had to wait a couple of weeks for delivery as there was a national shortage at the time. We were charged $1.28 per litre.
There is a good sized Metro supermarket about 1K away on the road to Dahar and another about 1.5Km further on. There is also a very large one in the Senzo shopping centre about 15Km South (a bus, just 2EL, runs but not as regularly as they say). There are also numerous small shops and stalls for fresh fruit and vegetables and the fish market near the marina is excellent.
Eating out is accommodated at all levels. Where the locals eat, a filling, vegetarian lunch can be had for just 1.5LE (yes, that's about 15 pence sterling!). In decidedly basic surroundings, a good grilled fish meal can be had for about 15LE or, for double that, in more salubrious surroundings. Within the marina complex there is a wide range of styles, but expect prices to double again.
Egyptian Cruising
It took 5 days to get our sailing permits from Felix agency. The costs per boat are $30 per month plus an administration fee of $50 plus whatever the agent fancies charging you.
At first, the agency wanted a fee of $70. Lo, the rally organiser spoke to the head office and, after some argument, was told there would be no further agency fee (we had already paid them $100 in Port Said). However, when they arrived with the permits they still wanted the fee of $70! After heated argument, this was reduced to $50. After further argument, it became $20 and, eventually, zero.
We had been told by Lo to get a 3-month permit as this would cover us until we left Egypt for Sudan. However, on the day, we discovered that the permits did not, as expected, date from when we arrived in Hurghada but were backdated to when we entered Egypt and so the 3 months we had purchased would not last long enough. The agent initially said we would have to purchase an extra month when the existing permit expired at $30 + $50 admin fee! After yet more argument, he agreed to supply the extra month with no admin fee.
So, costs in Hurghada were:-
Marina fees, 2 months: $440
Cruising permit, 3 months: $140
Water and electricity: $58
Hurghada proved to be a good cruising base. You soon get used to negotiating the reefs and there are easy day sails to various locations with excellent snorkelling. The "no landing" rule still applies, but there seem to be a few places where a blind eye is turned and we did manage a couple of overnight stays with beach barbecues on Gifatun island.
In November, the sea temperature is still around 27 degrees. On most days, there was a good F3 to F4 sailing breeze, nearly always in the Northern quadrant. There were some calms and periods of stronger winds, usually only for a couple of hours and at almost any time of day or night. Wind forecasts were not strikingly accurate but were a useful guide.
It is necessary to tell the marina (half an hour's notice seems to suffice) if you wish to go for a day sail and they insist that you are back before sunset (about 16:30 in the winter). Longer trips require at least 24 hours' notice and your agent will require a passage plan and a crew list. If your plans change whilst out, this must be reported by 'phone or VHF.
There are various touristy things to do around Hurghada. We took the day trip to Luxor ($60 p.p.) to see the impressive historical sights, went on a "try diving" day (50 Euro p.p. and well worth it) and did the desert "safari" – tacky but good fun!
One warning, some boats, including ours, entertained cockroaches. They are all over the town, hard to avoid and take some getting rid of!
Hurghada is a realistic base for overwintering. The town itself has few attractions but the diving is good and there is a small beach just outside the marina which marina residents can use at no charge. Most of the nearby beaches are inaccessible as hotels front nearly all the coast. There are a couple of "public" beaches although a charge is made. There are no attractive walks and cycling is hazardous. Numerous excursions are offered, the most popular being Luxor, desert trips, "safaris" and Nile cruises. The airport is very handy and most who over-wintered here flew home at some point.
Other Marinas
El Gouna
There are only two alternative marinas in the Egyptian Red Sea. El Gouna is a luxury resort about 20Km North of Hurghada which provides a relatively sterile, "non-Egyptian" environment. The landscaped grounds are good for walking and cycling and golf is available for those so minded. Shopping is very limited and eating out is all up-market. Mooring costs are the same as at Hurghada but its attractions may be reflected in the fact that only one yacht over-wintered there.
Port Ghalib
About 100 miles South of Hurghada is Port Ghalib. This is designed along similar lines to El Gouna but is even more isolated. It is similarly luxurious or will be when it is finished; at present, only about 10% exists and there is no sign of ongoing development.
The entrance can appear a little daunting. It is uncharted and the fairway buoy, just outside the entrance, sits in 100 metres which, together with the prominent, wrecked Oceanis 440 on the Southern shore, can make you doubt that your depth sounder is still working correctly.
However, if you just keep to the middle of the 100-metre wide channel it is quite straightforward and soon shallows to 30 metres and then 6 as you proceed between the reefs. We moored bows–to on the Northside with very good shelter and apparently sound mooring buoys and bollards. The landscaped surroundings are very pleasant and electricity and (maybe) potable water are readily available, as is fuel from the fuel dock ($1:30 a litre). The resort had very few visitors in January and there was the feel of a ghost town. Tourist tat shops were all open but only a couple of bars and restaurants. Clean toilets (with paper!) are nearby but the showers, which we were told were available in the hotel on the South shore (by free water-taxi), could only be had if you hired a room! (They then tried to fix the yachties' showers in the marina but without success.)
There are a couple of mini-marts in the marina complex but there is a larger supermarket and a greengrocer in the workers' "village", a 25-minute walk inland. There is a good, free beach (with new, but seriously underused, beach bar) on the South shore (reachable by water taxi) but the beach on the North shore belongs to a hotel and they want 50 Euro a day (yes, 50 Euro a day!) to use it.
A big plus for us in this location is the opportunity to walk and cycle safely and extensively and there are sporting and games facilities (at a price).
There must be doubts that the rest of the resort will ever be completed, apparently, our 6 yachts made a total of 10 in the past year although there is room for far more.
Due to strong wind forecasts, we stayed a week. This is the last place to check out of Egypt if heading South and you have to check out the day before you leave and then move to the "quarantine" wall outside the harbour office with no shore access. This we did just before sunset.
A months' mooring can be had for $220 but short-term rates are higher.
Cost for Port Ghalib were:-
Berthing ($9.50 per metre per week): $108:58
Electricity ($0.28 per Kwh): $3.64
Water ($7.00 per cubic meter): $1.00
Check out of Egypt fee: $80
Departure fee (Police fund): $0.63
Total: $193.85
As a rally, we were given a discount of around $50 per boat – yippee! Some of us had to extend our cruising permit though and that cost $30 for a minimum of a month when only 3 extra days were required + a 31LE fee (not sure what for).
Aqaba
Although the rally itinerary included Aqaba as a destination, it soon became apparent that this had been quietly dropped and, for some of us, other commitments (visitors, trips home) meant that the slow trip from Port Said did not leave enough time anyway. In the end, only one yacht initially made the trip. Negotiating the Straights of Gubal proved hard work with strong headwinds and big seas. It was also expensive with high fees in Taba but they did make it to the amazing city of Petra (still on our list for another day).
Another rally boat (a large catamaran) subsequently made the trip with a complement of 10 which proved far more economical. They also discovered that the mooring fees in the Royal Jordanian Yacht Club were per day rather than the reported $12 per metre per day!
Red Sea Navigation
There is no sense in pretending that navigation is not hazardous. South of Hurghada, charts, lack much detail and, in places are just plain wrong. We used Navionics and CPN electronic charts (as well as Admiralty paper charts). Most of the Marsas (natural harbours) are not shown at all and the chart will generally show you as being inland or on a reef when anchored; our Port Ghalib mooring, for example, showed as being some way inland. Depths are sometimes way off; a large area around 25⁰44'N, 34⁰36'E is charted as 30 metres but when we crossed it none of us found depths of less than 100 metres whereas, in other places, we found uncharted shallows of around 30 metres with no soundings on the charts of less than 150 metres. Oddly, the Navionics chart sometimes proved more accurate than CPM and vice versa. Both are often several hundred metres out of reference with actuality.
The Red Sea Pilot is invaluable but, even so, not entirely accurate. For example, we found that a reef anchorage shown as 11 metres deep was actually 17 metres; too deep for our tackle and so we were forced to sail on overnight. The bottom line is that you have to eyeball everything! It is most unwise to approach any unfamiliar shore when the sun is too low as reflections on the surface prevent you from seeing what lies below. This means that, in the winter, anchorages on the Eastern shore must be reached before 15:00 or so.
Forward-looking echo sounding would be very handy (not that we had it). Since reefs often rise vertically from 20 metres (or even 500 metres in some places!) to less than 1 metre, normal echo sounders provide limited assistance.
To emphasises the point, of the 6 yachts in our party that ventured further South to Sudan (which is really another story), only 2 avoided the bottom entirely; one was all but wrecked (eventually, towed out with extensive damage) two suffered minor damage (one hit a reef whilst towing off another) and the other escaped unscathed from a brief encounter with a sandbar. Of the 24 yachts total that we saw in the Red Sea, another 2 were stuck on bommies for a while but "got away with it" and one spent a night on a reef and lost half its rudder.
We were cautious, consulted all available navigational sources and followed the basic eyeballing rule. Do that and, like us, you should be ok, but bear in mind that there are no search and rescue services!
Insurance
In the light of the preceding, it may come as no surprise that some companies (for example, Pantaenius) will not contemplate insurance for this area. It is not so much the navigational hazards that put them off as the difficulty (and hence, expense) of obtaining spares and repairs. (We were told that if you abandon a wrecked yacht in Egypt, you have to pay import duty – $230000 was rumoured for a yacht insured for less than half of that!) That said, we were able to extend our existing insurance (Premier) for around £250 and a doubling of the excess.
Given the hassle and expense of the canal, chartering in the Red Sea in the "winter" would appear to be an attractive option. Unfortunately, there are simply no charter boats available, presumably because of the likelihood of damage.
The Return Trip
South winds are rare in the Northern Red Sea and, when you want to head back North, you need to capitalise upon any favourable weather window. Most likely, you will be motoring in light winds or motor sailing at the best angle you can make. Watch the weather closely (unless you have SSB, the best bet is to get an internet dongle; these are cheap and work in most places) and be prepared to hole up for a few days.
Back to Port Suez
We decided not to check out here as a morning departure from Port Said looked like a better bet weather-wise. (There would have been a saving of $46 + mooring fee over checking out in Port Said.)
Costs:-
Canal fee: $208
Agent's fee: $80
Check out fee: $40
Mooring fee (5 days @ $21): $105
Total to agent: $433 (receipt requested but refused)
Pilot baksheesh: $10
Boatman baksheesh: $5
Diesel (140L @ $0.85): $120 (receipt not expected as, technically, illegal)
TOTAL: $560
Back to Ismalia
We had a reasonable pilot for this leg and the benefit of the tidal stream with us, although strong headwinds slowed progress. We had to wait several days for a reasonable forecast for the Eastern Mediterranean but Ismalia is a better place to wait than Port Said and they guarantee that you will not be delayed by warships for the second leg. (If you check out in Port Suez, you cannot go ashore in Ismalia, of course.)
Costs:- Mooring 2 nights (anchored off for 3 more): $42 (receipt given).
Back to Port Said
An uneventful passage and again, the pilot proved reasonable – until the end that is when he complained at length that the money, cigarettes and whisky were inadequate baksheesh.
Costs:-
Additional check out fee: $20 (not payable if you check out in Suez)
Visa exit fee ($10 p.p.): $20
Pilot fee: $26 (not payable if you check out in Suez)
One night mooring fee: $21
Total: $87 (receipt requested but refused)
The agent said that we could not leave before 09:00 which was very annoying as we wanted to be away at 06:00 next day. It also transpired that all the boats had to be "inspected" again. They could not explain why but at least there was no further fee. This was particularly bad news for 3 other yachts that accompanied us through the canal as they wanted to leave straight away and had to wait 3 hours for the "naval officer" (?) to arrive whilst moored alongside and being buffeted by the wash. After some heated radio calls from one of them, he eventually arrived in style in a twin diesel RIB with a crew of 5. When we were inspected (which consisted of him taking yet another copy of the crew list and ship's paper – no more), I thought to ask the "naval officer" when we could leave. He said, "whenever we liked" and called Port Control on the VHF to tell them (or confirm?). A while later, the agent, Islam, reappeared (stuffing down a pizza) and I queried the permitted leaving time again. He insisted, "Not before 9". I pointed out (4 times, before it sank in!) that the officer had checked with Port Control who ok'd it. I then asked whose decision was it and he finally admitted, "Port Control", so I said we would call them in the morning. Why he was being so awkward is not clear – maybe he had some morning scam in mind. Anyway, I called PC at 07:00; they were expecting the call, gave permission to leave and wished us a good voyage. There was no mention of a pilot (you obviously don't have to have one, you just have to pay for one!) and off we went, in company with our friends' yacht, with no further trouble.
General Observations
By and large, Egyptians are friendly, welcoming and helpful. Those in the tourist businesses simply view us as dollars on legs; some are ok but many can be extremely annoying and, by our standards (but not theirs) dishonest. This seems to be in part due to desperation as the tourist industry has suffered in recent years but you have to be very wary. Outrageous (attempted) overcharging is common but one meaner trick is shortchanging; giving a 50 piastre note (0.5LE) as a change in lieu of a 50LE note. Sadly, most of the officials appear to be corrupt. There is, of course, no choice but to deal with them and to some extent, you just have to go along with this.
That said, serious crime is not a problem. Of all the yachts overwintering in the Red Sea (about 24) the incidents we heard of were:-
A folding bicycle stolen from the pontoon in Hurghada Marina.
A Kindle (electronic book) stolen from a yacht in Port Ghalib during the "customs inspection" (quite despicable to my mind).
A pocket (mine!) picked in Hurghada town. Interestingly when I took issue with the (rather incompetent) thief, a crowd of locals soon gathered and lambasted him until my money was returned – I then left them to it!
And to set some balance, when my partner dropped her billfold in Port Suez market, it was returned intact and a reward was refused.
The attitude to women is different from ours. The staring, whistling, hooting and shouting at, and even some groping of, European women (even when modestly dressed) can make them feel very uncomfortable and some women in our party would venture into town on their own.
To Egyptians generally, "maintenance" is an alien concept. They take the old adage "if it ain't broke don't fix it" to the next stage "if it is broke, still don't fix it", unless absolutely essential, and then bodge it. Worryingly, this does impinge upon mooring facilities. In Ismalia, we had a bollard break away as soon as we had a bit of wash and the one we re-attached to promptly did the same. In Hurghada, half the mooring buoys are missing; they just fish the fixed lines up from the bottom when required. There is no inspection of these lines and one did indeed part when there was a bit of a blow. Luckily, the yacht attached to it was also moored to a second line, otherwise, they would have been blown onto the concrete pontoon. The best advice here may well be to lay out your own anchor if on the windward side of the pontoon. In Port Suez, the pontoon had been torn away when a large motorboat hit it and upon our return visit (at least 2 months after the accident) the remains were still "temporarily" lashed in place and the electricity and water had not been reconnected. The boatman rigged up an electricity supply for us by running a long cable from the security guard's hut where the wire ends were pushed into a socket (no plug, of course) which itself dangled from a wire and was secured with masking tape.
We bought Egyptian 'phone SIMS and internet dongles (Etisalat) at modest cost and found them to work quite well.
Overall Costs
We chose to travel further South to Sudan (but that really is another story!) Had we stayed in Hurghada with most of the rally boats, total costs would have been:-
Canal Transit South – Fees + Visas + Berthing: $772
Hurghada Marina Fees (5 months): $1100
Cruising Permit (7 months): $260
Canal Transit North – Fees + Berthing): $545
Water and Electricity (approx.): $80
Diesel (approx.) from Turkey and back: $400
Overall Total: $3157
The cost of living is low and so partially offsets this. We paid an additional 500 Euro to join the Vasco de Gama rally but that is, of course, optional. We could also have saved about $400 dollars if we had returned through the canal within 6 months (you get a "free" return) and had spent less time in the Canal stopovers but that was not in the rally schedule.
Pros & Cons
Winter weather (warm, no rain)  vs  Corruption of officials
Sealife/diving vs  Dirt and litter
Low marina fees  vs  Transit and bureaucracy fees
Friendly locals (other than the tourist traders) vs  Hassle from traders
Ancient sites  vs  Poor charts and tricky pilotage
Low living costs  vs  Attitude to women
Easy to sail South vs Hard to sail North!
Cheap fuel
The Bottom Line
Would we go again? In our case, only if the bureaucracy and corruption were ameliorated. Other rally members were not put off by this and there are, of course, many compensations. If you fancy "summer" sailing all through the "winter", it is a good deal closer than the Caribbean!
Ian Bray
SY Jigsaw (Moody 38CC) from Christchurch, Dorset, UK.
Date Last Edited
October 18, 2013 - 02:30 PM
User Comments
You must register first or be logged-in to leave a comment.
No comments for this post.