Contents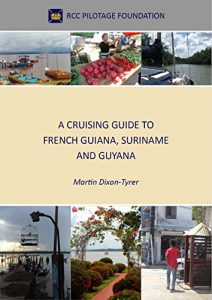 Buy Now
A useful free guide (2017) to this little-visited part of South America which lies outside the hurricane zone. Giving cruisers an opportunity to experience pristine rainforest with abundant flora and fauna, small towns, and jungle settlements of considerable cultural interest.
This book is only available in electronic form as a free download. In pdf format it can be read on all devices using free Adobe Acrobat software. It also available in EPUB format, suitable for use with a variety of eReader software on different devices. There is a link to download the EPUB version below.
By Martin Dixon-Tyrer
Published by RCC Pilotage Foundation
Download at www.rccpf.org.uk/pilots/145/A-Cruising-Guide-to-French-Guiana,-Suriname-and-Guyana
EXCLUSIVE BOOK DISCOUNTS FOR NOONSITE USERS
Imray & Adlard Coles Pilot Books can be purchased with an exclusive Noonsite discount of up to 15% by visiting our Imray store if shopping from the UK or Europe.
For North America and the rest of the world visit Bluewater Books & Charts. When ordering through Bluewater be sure to enter the coupon code NOON during checkout to save 10%.