Previous Page
General Info
Toulon is a large, busy commercial and naval port and home of the French Mediterranean fleet.
The old city around the cathedral area is an attractive area of narrow, pedestrianized cobbled streets.
Position 43°05.26'N, 05°56.80'E (harbor approach)
Clearance
Docking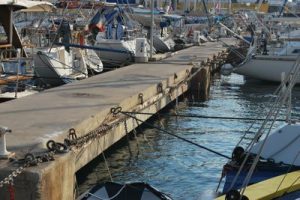 There are several berthing options here in a range of 6 marinas. All of which provide good shelter.
Darse Vielle is inexpensive and in the heart of the city, but can be noisy at weekends and the wash from the ferries can cause problems. Visitor berths are on a fixed concrete pontoon (see photo September 2016 from Chris Thorne), and mooring assistance here is only given during office hours.
Reports in March 2018 are that major works are on-going here and transient berths are not currently available.
There are several nearby harbors which offer a quieter berth, but which are still within reach of the city.
St Mandrier has an all-year-round ferry service to the city.
Navy Surf, in the Rade de Toulon, is a boatyard offering limited berthing while awaiting haul-out. It is reported as a good, inexpensive and secure place to leave the boat for the winter. Port Pin-Rolland is also reported as good, especially if living aboard.
La Seyne now has the lifting bridge permanently open but is restricted to boats under 10m.
The outer harbor has a sandy bottom with excellent holding but is not a safe anchorage in strong east to southeast winds.
Last updated March 2018.
Port de Plaisance de Toulon (Darse Vielle)
Yacht Clubs
Places
France, Mediterranean Coast (France), Toulon-la Seyne