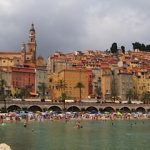 Description:
This charming old town is right on the border with Italy, which naturally has a strong influence on its atmosphere and architectural style. (Photo courtesy of SY Cha Ventures III showing town beach).
Position:
43° 47.01'N, 07° 31.39'E (marina entrance)
Read and Post Related Comments
If you have information for this section, or feedback on businesses used, please let us know at [email protected]. We also welcome new information about businesses you have used (see Related Businesses).