Previous Page
General Info
Cherbourg is situated at the north tip of the Cotentin Peninsula. It is a favorite destination for yachtsmen from the south coast of England due to its proximity and the all-time, all-weather access to the port.
Position 49° 40'42″N, 01° 37'04″W (harbour breakwater)
Clearance
See French Formalities for full details on clearing into and out of France.
On arrival, all boats must report to the Capitainerie with the ship's papers and a note of the pontoon and berth number (i.e., where the vessel is physically located at the time of check-in).
Last updated: April 2019
Cherbourg bureau (Customs Office)
Docking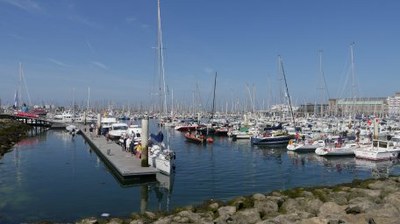 This busy commercial port and ferry terminal has more visiting yachts than any other in Europe. It is well-marked and can be entered day or night and at any state of the tide. The outer harbor can be entered from either end of the central breakwater.
Visitors' berths (pontoons N, M, P, and Q) are in the marina at Port Chantereyne, which is in the SW corner of the Petite Rade (see a photo taken by SY Suwena). It is very rare that there is not a free slip here, but there is a waiting pontoon with water and electricity (although not attached to the shore).
Although large yachts are sometimes permitted to anchor just outside the marina in front of the military port, normally there is no anchoring in the Petite Rade. Grande Rade has several anchorages, but being a large bay, it can be exposed if the wind in the northern sector.
It is reported that where there was once moorings in the north part of the marina, they have been removed.
Last updated June 2017.
Yacht Clubs
Places
Channel/North Sea Coast (France), Cherbourg, France