Previous Page
General Info
This town needs no introduction! Sitting in the cockpit watching the world go by is certainly an interesting occupation here.
Position 43° 32.66′ N, 007° 01.19′ E (entrance Cannes marina)
Clearance
The Customs and Port Authorities are both situated in the building in the NE corner of the harbor of Port de Cannes.
Docking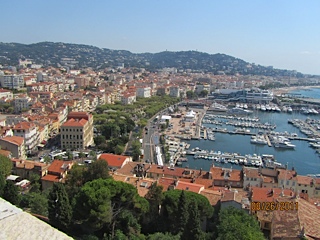 Apart from the marinas, there is a good anchorage south of the breakwater in the NE corner of Golfe de la Napoule. The holding is firm in the mud. In winds from the south, north of Ile Ste. Margerite provides an alternative spot with moderately good holding
Excellent showers and toilets and good launderette.
(Photo courtesy of SY Cha Ventures III – view of the waterfront from the castle).
The marina at La Napoule is 5nm west of Cannes and Port
Pierre Canto just to the east of the Old Port.
Last updated June 2018.
Yacht Clubs
Places
Cannes, France, Mediterranean Coast (France)