Previous Page
General Info
Although only 5 NM from St Tropez, this is a very distinctive town. Known as a 'poor man's Venice', it was built only 40 years ago and is based around artificial islands and canals, with the aim of every resident being able to park their boat at the bottom of the garden.
The marines de Cogolin, on the southern side of the River Giscle, is a large modern marina rather lacking in atmosphere.
Position 43°16.27'N, 006°35.28'E (Entrance to Port Grimaud)
Position 43°16.14'N, 006°35.37'E (Entrance to Cogolin)
Docking
There are plenty of guest berths in Port Grimaud and the port is administered by 3 Capitaineries. The office of PG 1 is to sta'bd, just inside the entrance.
The best shelter is in Port Grimaud Sud, located in the SW corner of the complex.
The arrival pontoon is to sta'bd, just inside the entrance.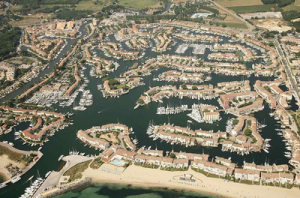 The 3 different areas of the port have different names and contact information.
Port Grimaud has two main squares and plenty of shops and restaurants, as well as a weekly market. All facilities are available; yacht chandlers, a post office, and even a cathedral.
Note: There is a strict 3-knot speed limit throughout the village.
Marines de Cogolin: The are some provisions, shops, bars, and restaurants in the marina and all the repair services required.
Last updated March 2018.
Monaco Marina – Les Marines de Cogolin
Yacht Clubs
Places
France, Mediterranean Coast (France), Port Grimaud