Previous Page
General Info
The Port of Hyères-Plage is separated from the old city of Hyères by the airport. The old city lies 2.5 miles further inland and clusters around the castle on its hill. Hyères-Plage is the modern seaside resort on the coast.
The nearby Îles d'Hyères (in particular Porquerolles) offer lovely cruising grounds.
Position 43° 04.65'N, 06° 09.47'E (Harbour entrance)
Clearance
Docking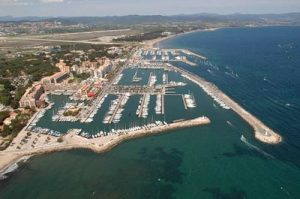 Photo from http://www.portshyeres.fr
The Port de Plaisance is very large, having 3 main basins. Visitors enter round the southernmost arm of the breakwater and berth on the arrivals pontoon in Bassin 2. Visitors can also be berthed in Bassin 3.
In settled weather, it is possible to anchor south of the entrance, clear of the buoyed channel, in the designated area. The bottom is sand and weed. It is prohibited to anchor north of the harbor due to the proximity of the flight path to the airport.
Last updated March 2018.
Places
France, Hyères-Plage, Mediterranean Coast (France)