Previous Page
General Info
Situated on the southern tip of the island, this town is regarded as one of the most attractive on Corsica. It is however very popular in high season with over-zealous Customs (see comments from cruisers at the bottom of the page).
Position 41°23'N, 09°09'E (Harbour entrance)
Docking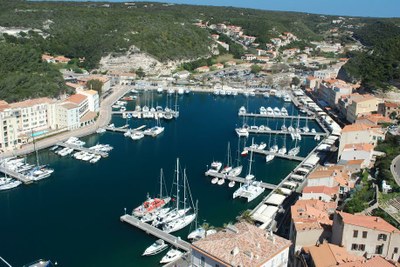 Whilst this is recommended as the best harbor in Corsica, you pay to enjoy it. There are a large number of visitors' berths, but it does get very crowded in the season and you may find there is no space. The only facilities are public toilets (photo courtesy of Chris Thorne).
Beware of the ground chains in the anchorage.
There are fore/aft moorings (for up to 16m) in Calanque de la Catena.
If you prefer somewhere cheaper and quieter, it is possible to anchor at Cala Paragnanu just around the corner and visit Bonifacio on foot. It's a 30-45 min walk.
Last updated July 2018.
Places
Bonifacio, Corsica, France