Previous Page
General Info
This attractive, ancient town sits on the southern bank of the River Seine, approximately 8 miles from where the estuary sandbanks give way to the open sea.
Position 49° 25'45″N, 00° 14'E (entrance lock)
Docking
The channel leading up to the harbor is well buoyed but the tides run strongly and there can be a nasty swell in fresh onshore winds. The tides at the entrance to the Seine are complicated by a double HW at Springs and a long stand at Neaps, so careful timing of the approach to Honfleur is required.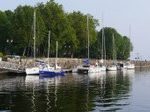 There is a lock controlling the entrance into the outer harbor (24hrs), which opens on the hour for inward locking and on the half hour for outward locking. Passing through the Avant Port, the entrance to the Vieux Bassin is marked by a lifting bridge and a gate. The gate is normally open, but you have to wait for the bridge. There is a waiting pontoon here next to the park (see a photo taken by SY Suwena). During the season, the bridge lifts on the half hour from 0730 to 1030 and from 1730 to 2030 (local time).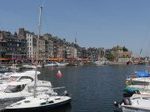 Boats over 14m berth alongside the west quay in the Avant Port. In the Vieux Bassin, visitors berth on the west (sta'bd) side opposite Quai Ste-Catherine (see a photo of inner harbor taken by SY Suwena).
Honfleur is a convenient port from which to take the River Seine up to Rouen and beyond into the French canal system.
Last updated June 2016.
Cercle Nautique de Honfleur (Vieux Bassin)
Yacht Clubs
Places
Channel/North Sea Coast (France), France, Honfleur