Previous Page
General Info
This attractive, busy market town offers a very useful port of call. It is tucked into the NE corner of a large bay, just south of the Pointe du Raz.
Position 48° 00'22″N, 04° 32'18″W (port entrance)
Docking
If the tide is low, or you stop very brief, then the anchorage off Sainte Evette provides shelter in all but on-shore winds from the east. There are visitors' mooring buoys tucked behind the breakwater, or, in settled weather, an anchorage further out.
The marina in Audierne itself is best entered/exited at HW +/-3hrs and the curve of the channel followed closely, using the two different sets of leading marks. (The upper mark of the 2nd set is in front of the grey storage shed and not easy to spot). There are rocks to the port of the channel, which is dredged and which has a steep-to edge on the stand side.
The marina has developed from the original working fishing harbor and still retains it's down to earth atmosphere. Minimum depth is 2m and the maximum length is 14m.
The Harbourmaster is usually about in season and is very helpful with mooring.
Facilities are excellent (code required) and are next to the harbor office. This is across the road from the marina and to the right (flags outside).
Last updated September 2010.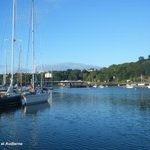 The visitors' moorings at Audierne.
Places
Atlantic Coast (France), Audierne, France