Previous Page
General Info
Roscoff is an attractive little town, perched on a peninsula on the north Brittany coast. It is the home of the original "Onion Johnnies" and there is a museum here devoted to their activities.
Separated from Roscoff by a narrow, torturous channel, is the Ile de Batz – a very quiet, laid-back island.
Roscoff is ideally placed for crew changes, with good connections to England and the rest of France.
Take care at all states of tide except slack water, as there are strong currents here on the approaches to the marina.
Position 48° 43'08″N, 03° 57'41″W (harbour entrance)
Clearance
See French Formalities for full details on clearing into and out of France.
Ask at the marina office for advice on clearance.
Docking
The newly built marina, just south of the ferry port at Bloscon, opened in 2016. It is large and spacious making it a particularly attractive stop for traditional boats. It has a good range of services with more planned.
See photo below showing the entrance via the ferry port. Do not attempt to enter the marina via the southern entrance.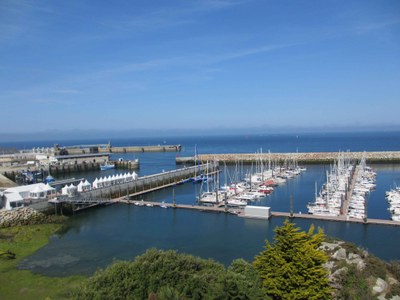 New marina at Roscoff (photo Val Ellis)
The old port on the northern side of the town, is a drying harbor, with access about two hours each side of high water. The visitors' berths are alongside the old breakwater. The bottom is sand/mud and small stones. It was designed for fishing vessels, so long lines and protection from the wall is essential.
Moorings
The white mooring buoys on the north side of the Chenal de Batz, just west of the Ar Chaden tower have now been removed (2016). The remaining one is for the lighthouse dept.
Anchorages
There is a sheltered anchorage at Pen Lann, in the Rade de Morlaix, or in the Penze river, west of Ile Callot. Alternatively, many yachts proceed up the river to Morlaix.
Last updated May 2016.
Yacht Clubs
Places
Channel/North Sea Coast (France), France, Roscoff