Description:
Roscoff is an attractive little town, perched on a peninsula on the north Brittany coast. It is the home of the original "Onion Johnnies" and there is a museum here devoted to their activities.
Separated from Roscoff by a narrow, torturous channel, is the Ile de Batz – a very quiet, laid-back island.
Roscoff is ideally placed for crew changes, with good connections to England and the rest of France. The modern, well-equipped marina, is open all year-round.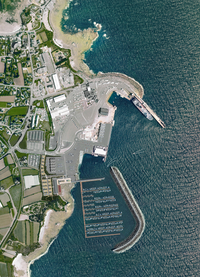 Entrance Notes and Cautions:
This port and marina are open 24/7, 365 days of the year, in all weathers and tides. Staff are reported to be very helpful and speak English. Announce your arrival on VHF Ch. 09.
Take care at all states of tide except slack water, as there are strong currents here on the approaches to the marina.
To avoid the problem of silting in the marina, the pier is wide open at each end, thus allowing sea currents to pass through. At its southern tip, the last jetty acts as a breakwater.
Do not attempt to enter the marina via the southern entrance.
Before you enter the outer harbour, watch for the red light at the end of the breakwater as there may be commercial traffic.
Position:
48° 43'08″N, 03° 57'41″W (harbor entrance)
Read and Post Related Comments
If you have information for this section, or feedback on businesses used, please let us know at [email protected]. We also welcome new information about businesses you have used (see Related Businesses).