Previous Page
General Info
The entrance to the Vilaine River lies about 20nm ESE of the entrance to the Morbian. The river stretches for many miles into rural France and once through the barrage at Arzal, there are many tranquil places to anchor or pick up a mooring.
If heading for Redon see details of the swing bridge at Cran
There are holding buoys either side of the bridge.
Masted boats can cruise as far inland as Redon where a lock provides access to the inland waterways network.
Position 47° 30'N, 2°30'W (River entrance).
Docking
There are many moorings in the river, but below the barrage take care with the depth.
There are two marinas at Arzal (one on each bank) and another at La Roche Bernard.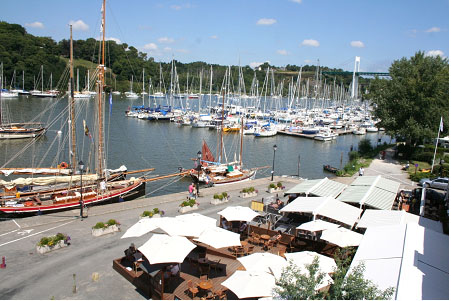 This photo is of the visitors' berths at Roche Bernard.
Folleux also has a small marina and if moving even further up the river, Redon also provides moorings as well as the facilities of a reasonable size town.
It is possible to anchor anywhere in the river out of the main channel but the mud can be soft and the holding poor.
Last updated December 2012.
Port de Plaisance La Roche Bernard
Places
Atlantic Coast (France), France, Vilaine River and Roche Bernard