Previous Page
General Info
Sitting near the mouth of the river Odet, Benodet is a principal yachting center. The town is a pleasant holiday resort with good restaurants and a large supermarket, as well as a good beach. On the opposite bank is the much quieter village of Sainte Marine, with just a few shops and restaurants.
Position 47° 51'40″N, 04° 06'24″W (river entrance)
Docking
In addition to the two marinas, there are river mooring buoys (marked V). There are also anchorages off Anse du Trez at Benodet and, in offshore winds, to the W of Pointe de  Combrit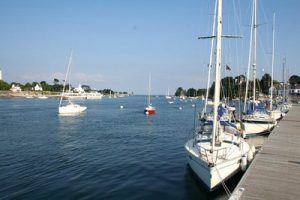 Photo of the visitors' pontoon at St Marine in the Benodet River.
Last updated December 2012.
Yacht Clubs
Places
Atlantic Coast (France), Benodet, France