Previous Page
General Info
This former small fishing village is now a popular seaside resort. It lies about 20nm east of Sete. Just 5 miles inland is the attractive city of Montpelier.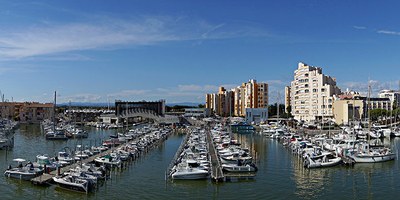 Position 43° 32.40′ N, 3° 58.67′ E (harbour entrance)
Docking
This is a very large marina.  Visitors should first berth near the post office (to stand past the fish quay).
Very shallow draft boats with a low headroom can proceed via the Canal de Caron to the Canal du Rhone.
Just 3nm to the west lies the equally large marina of Palavas-Les-Flots.
Last updated January 2018.
Places
Carnon-Plage, France, Mediterranean Coast (France)