Previous Page
General Info
This attractive town is easily identified, lying as it does in a gap in the white chalk cliffs and with its distinctive castle perching on the high land to the west of the entrance.
Position 49° 56'16″N, 01° 05'04″E (harbour entrance)
Clearance
See French Formalities for full details on clearing into and out of France.
Last Updated: April 2019
Docking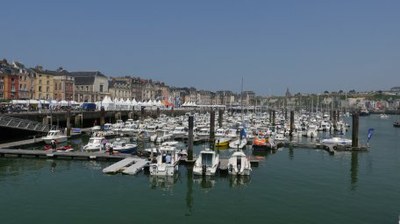 The port uses the International Port Traffic Signals (IPTS). The signals should be followed and contact made with Port Control if necessary. Entry and exit are restricted during ferry movements.
There is very good shelter here once inside the harbor, but the entrance is exposed to winds between NW and NE which can make conditions in the marina quite rolly. It is also a busy ferry port and a watch needs to be kept for shipping movements, especially in the narrow entrance channel.
Once through the channel, turn to sta'bd round the wave breaker protecting the marina (see a photo taken by SY Suwena). Visitors berth in the Avant Port at Quai Henri 1V. Berth on the first or last pontoon, but not on the end of either. Yachts are prohibited in the Arriere Port, nor is there any suitable anchorage here.
Last updated: April 2019
Yacht Clubs
Places
Channel/North Sea Coast (France), Dieppe, France