Previous Page
General Info
Situated approximately halfway between Nice and Antibes, the port here offers facilities for large yachts and super-yachts.
The newer Port Camille Rayon is the more upmarket marina, while Vieux Port de Golfe-Juan is basic.
Position 43° 33.77′ N, 07° 04.50′ E (harbour entrance)
Docking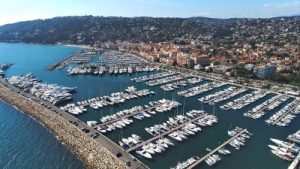 Photo from http://www.portcamillerayon.net/
On entering the harbor, Port Camille Rayon is straight ahead, and Port de Golfe Juan is through the narrow entrance immediately to port, round the Quai Sud.
Just a mile east across the bay is the fashionable marina of Port Gallice at Gallice-Juan-Les-Pins. It is a quieter destination than most in this area but has all the facilities including a boatyard.
Last updated June 2018.
Places
France, Golfe Juan, Mediterranean Coast (France)