Previous Page
General Info
This is the most convenient stop if wishing to visit Rome. It lies some 32 kms (20 miles) to the west of the centre of the city.
Position:  41°46.3'N, 12°12.92'E (canal entrance)
Position:  41°44.3'N, 12°13.83'E (Fiumicino river entrance)
Position:  41°44.15'N, 12°14.7'E (Port di Roma Ostia)
Docking
There are many small marinas in the Fiumicino River as well as the very large, Porto di Roma Ostia, just south of the river entrance. The Fiumicino Canal also offers possible berths if the winds permit entry.
In strong onshore winds and with the ebb running in the river, steep breaking seas can exist from the 10 meter (32 ft) contour until well into the river. There are many moorings here, in the river and in the yards along each side. There are regular buses to Ostia Antica and Fiumicino.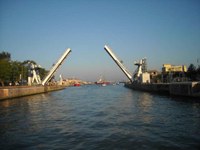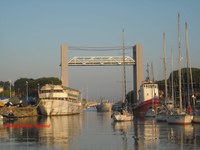 Just 3.2 kms (two miles) north of the river is the Fiumicino canal, which offers lower-priced berthing (with buses to Rome). However, it is not advisable to enter the canal in on-shore winds above F3. It is very close to Rome's very busy airport. There are two bridges – a lift (bascule) footbridge and a vertical-lift road bridge (thanks to Tom Walton for the photos).
The bridge opening times change regularly but a Noonsite contributor has posted the following opening hours from April 1, 2019 to September 30, 2019 (see comments section).
Monday, Tuesday,  Friday and Saturday:  09:30 and 20:00
Tuesday and Wednesday:  14:00
Sundays and holidays:  09:00, 14:00 and 20:00
Bridge height is 21 meters maximum.
There is a small marina on the south side of the Canal (Darsena Traiano), just before the bridges. As it appears very full, a prior reservation would be advisable.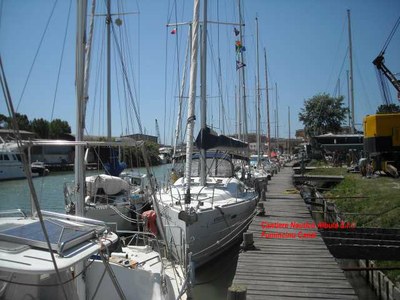 The Cantiere Nautico Albula is on the north side of the canal beyond both bridges and has been recommended by a number of Noonsite readers. While facilities are basic with no frills, Max the manager speaks excellent English and is very helpful and friendly. Another recommendation by cruisers is Constellation Nautica nearby.
The areas for docking on the canal are not as picturesque as those in the river and walking around at night alone would definitely feel uncomfortable. It is however very convenient for visiting the centre of Rome city. The local Fumincino Bus (orange) costs 1€ to the Parco Leonardo train station. From here you can travel to the central city station of choice for 1.50 to 2.60 €.  The Cotral Bus (blue) runs to the Fumincino/Roma Airport regularly.
Fiumicino has a number of chandleries, sail makers and tradespeople available for boat work. Local provisioning was excellent with multiple supermarkets and local produce markets. Nice bulk wine shop in town.
The large marina di Roma at Ostia provides the easiest entry and all services, as well as good security.
Last updated:  March 2019.
Porto Romano (Fiumicino River)
Places
Fiumicino (Rome), Italy, West Coast (Italy)