Previous Page
General Info
This tiny island is one of the groups of Pontine Islands in the Tyrrhenian Sea. It lies about 25 km off the mainland coast east of Naples. In ancient times it was favoured by various Roman Emperors as a place to banish female family members, several of whom starved to death there.
Position 40° 48.18'N, 13° 25.97'E (main harbour entrance)
Docking
The harbour provides very good shelter and has done so since Roman times.
There are two harbours in Ventotene.
The new one (Calla Rossano) is also the ferry harbour and there is a swimming dock off the sailing club.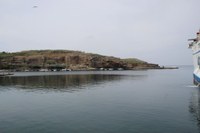 Photo (left) of Cala Rossano © Berthold Notthoff
The other much older harbour (over 2000 years old) is called Porto Vecchio or Porto Nicola and was built by slaves. Boats up to 45ft can berth bows-to the quay here. There is a depth of approx. 2.20m. Do not, however, berth stern-to the quay as it shallows quickly with only about 1m of water next to the quayside. There are electricity and water on the quay.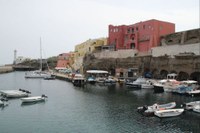 Photo (right) of Porto Vecchio © Berthold Notthoff
It is possible to anchor outside the port and there are also several anchorages around the island.
Last updated March 2017.
Places
Italy, Ventotene (Pontine Islands), West Coast Islands