Previous Page
General Info
Located on the western extremity of Sicily, this is an attractive town, known for its Marsala wine. Although Mazara del Vallo or Trapani might be considered as alternatives when visiting the western end of the island.
Position 37° 47.15′ N, 12° 17.07′ E (harbour entrance)
Clearance
This is a Port of Entry.
Customs Office is in the western part of the port.
Last updated February 2017.
Docking
The harbour has been renovated in recent times but is still exposed to southerly winds.
Pontoons A and B are cheaper than those run by Polaris Cantiere Nautico. They are run by Mr Vito (see comments below about his services).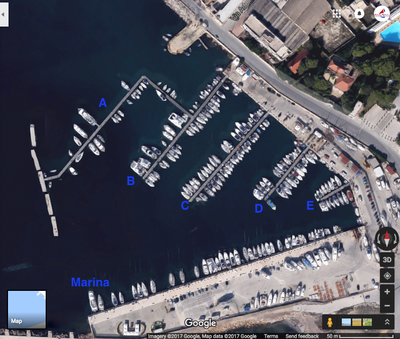 Photo from Google Earth sent by Armando Addati
There are plans to expand berthing in the harbour and create a modern marina in the western half of the port, but this is likely to be a long time happening.
Last updated February 2017.