Previous Page
General Info
A delightful town with helpful, friendly people.
This is a good place from which to visit the remains of the city of Paestum, a major ancient Greek city.
Position:  40° 21.32'N, 014° 59.03'E (marina entrance)
Docking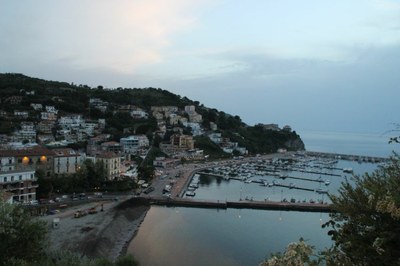 Visitors berth on pontoons at the SW end of the harbour.
The free 48 hour tie-up is on the right just inside the breakwater, south of the club at the end. There is room for about five boats. If you are very early in the season you may be able to stay longer.
Most of the pontoons have different operators. The outer pontoon is run by the Yacht Club. The bottom is mud, although there are some laid moorings. The harbour is well sheltered but is open to the NE.
All bathroom facilities here are "pay as you go". So come with plenty of 0.50 and 1 Euro coins.
Photo courtesy of Berthold Notthoff – May 2015.
Last updated:  May 2017.
Places
Agropoli, Italy, West Coast (Italy)