Previous Page
General Info
A modern, quiet and tranquil marina set in beautiful surroundings. Occupied by mainly smallish yachts and local day fishing boats. Not within easy walking distance of anything, however, marina staff are reported to be very helpful. On the West side of the Marina, there are many beautiful beaches, popular with surfers.
Position 38° 55.67'N, 08° 43.33'E (harbour entrance)
Clearance
Minimal formalities (a quick check of passports).
Docking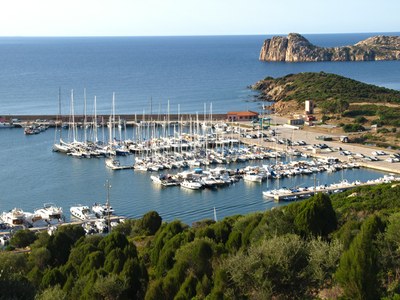 "Ormeggiatori" are helpful and may come out to meet boats entering the marina, but little English is spoken. This is a very quiet, sleepy place. Photo of marina courtesy of Marina Tuelada website.
It is possible to anchor off the beach outside Tuelada marina. Very sheltered unless the wind is from the south.
Last updated August 2018.