Previous Page
General Info
Located in the NW of Trapani Province on the extreme western edge of Sicily, Trapani is well known for its seafood dishes and a very picturesque town. Trapani is the shortest crossing from Sardinia.
Position 38°00.17′N, 12°29.93′E (harbour entrance)
Clearance
It is essential to report both arrival and departure to the coastguard on VHF channel 16. Call the port when a mile from the entrance. Fines may be imposed if you do not do so.
The police and Customs officials are very helpful here.
Last updated August 2016.
Docking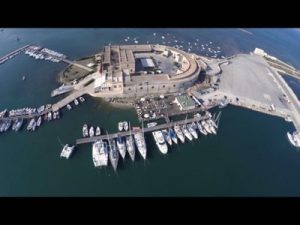 It is prohibited to sail inside the harbour basin, motoring only.
Approach the harbour from the south but beware of the shallows a mile from the harbour.
There are a number of mooring concessions here and some do try to call yachts on approach on Channel 16 to see if they have a reservation. Don't worry, this is nothing official, they are simply trying to get the business ahead of the rest!
The yacht berths are directly north of the entrance and are often crowded. They are exposed to southerly winds and also those from the NW. Whilst the cost for one night is high, prices come down if staying for longer.
See alternative mooring recommendations from cruisers at the bottom of the page.
The port has most services, including crane, travel-hoist and fuel berth.
The town can provide most other needs (chandlery, LPG, laundry, post office, bank, pharmacy and provisions).
Security
Dinghy and outboard thefts were reported here in August 2017 by boats anchored off the lighthouse (see comment at bottom of page). Remember to lock your boat and property at all times.
Photo showing berths belonging to VMV Moorings.
Last updated:  August 2018
Marina di Castellammare del Golfo