Previous Page
General Info
This is a small, but very attractive harbour located at the extreme southern tip of Italy's "heel", at the entrance to the Adriatic. It is an ideal stopover before the "jump" to Corfu. Be aware of considerable commercial traffic rounding Pt. Risolta. Fuel and some repair facilities are available here.
Position 39°47.57'N,18°21.38'E (harbour entrance)
Clearance
The Harbourmasters' office is at the head of the harbour.
Marina staff will have a quick check of your documents.
Docking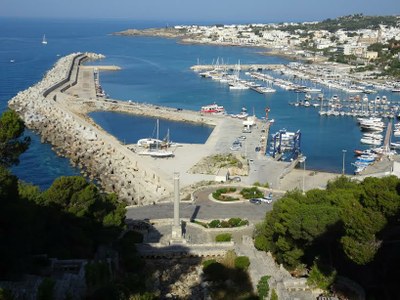 With a marina now installed in this harbour, it makes a very useful port of call, although shelter is rather limited if there is any south in the wind. Aswell tends to enter the harbour whatever the direction of the wind.
In settled weather, it is possible to anchor in the bay south of the main breakwater. The holding is good in sand.
It is now forbidden to tie up alongside the outside mole.
There are a couple of small supermarkets within easy walking distance of the marina, however, cruisers report that supplies are limited. Most other businesses and properties seem to be seasonal.
Photo provided by SY Big Sky who visited here June 2017.
Last updated June 2017.
Places
Italy, Santa Maria di Leuca, South Coast (Ionian Sea)