Previous Page
General Info
COVID19: OPEN PORT
Status: Open to yachts coming from an EU/Schengen country
Italy's borders are now open (from 03 June) to all foreign yachts coming from countries in the EU/Schengen area without quarantine.
Foreign yachts coming from a non-EU country will not be permitted to enter Italy.
Marina di Ragusa is open and can assist yachts in transit to get fuel/provisions/water.
For pre-arrival procedures see Italy Biosecurity.
At least 24 hours before arrival, inform the Marina of your boat details and approximate ETA.
On approach, call the Marina on VHF Ch. 74 when 2NM off and stand off to await instructions.
For emergency repairs, contact the boatyard at [email protected] to see how much space they have.
Porto Turistico Marina di Ragusa: +39 0932230301, E-mail: [email protected], VHF Ch. 74, https://www.portoturisticomarinadiragusa.it/en
Description:
Marina di Ragusa is situated 20 miles west of Pozzallo and 29 miles SE of Gela. (Red and Green, 3-second flashing towers on entrance breakwaters).
Once a small fishing village, the development of the port area and opening of the marina in 2010 has seen this once sleepy place turned into a popular beach resort. The renovated town centre is adjacent to the marina and is fronted by beautiful beaches, crowded in summer, quiet in the off-season. The surrounding area features beautiful historic baroque towns, a "must" visit.
The marina has space for over 700 yachts and according to feedback from cruisers who have made comparisons, this is possibly the most affordable marina in Italy for wintering.
Entrance Notes and Cautions:
The marina, at times, has problems with sitting near the marina entrance. Be sure to call on VHF 74 whilst standing off the marina entrance, and wait for instructions on how to proceed. See further details below under docking.
Position:
36° 46.7' N, 14°32.97' E (harbor entrance)
Clearance
For all the details on clearing into and out of Italy see noonsite's Italy Formalities.
International clearance is no longer possible here.
The closest port for Customs clearance and to complete the "costituto d'arrivo" process is Pozzallo, a ferry port 20 miles to the west.
A more yacht-friendly clearance port on the south coast is Licata.
Last updated July 2018.
Docking
The marina has long, overlapping breakwaters, giving protection from winds from all directions and of all strengths, even in the strongest winds there is no chop or any surges in the marina.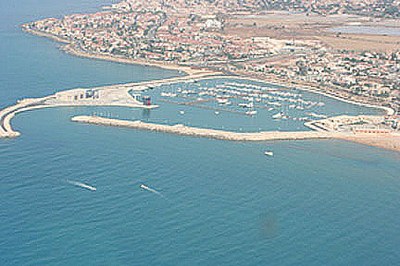 Approaches
Call the marina on VHF 74 (0600 to 2300) as you approach Ragusa and wait before entering.
The average depth off the marina entrance is 2.80 / 3 mt. The safe channel into the marina, which is currently un-marked, has an average depth of 4.5 mt. Dredging is currently taking place.
The marina is waiting for authorisation from the Capitaneria di Porto to install buoys to mark the safe entrance channel.
Entering the Marina
Be sure to keep to port while entering and stay as close as possible to the red light.
Entry is safe, except in very strong southerlies when large waves reduce the depth between the breakwaters to less than 3.6 meters. Caution should be applied in severe conditions.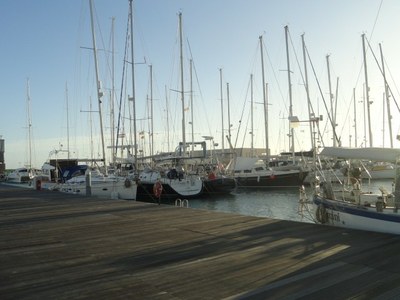 Once inside the breakwater marina personnel will guide you to a berth and assist with docking between the hours of 0600 and 2300. The sturdy pontoons are equipped with lazy lines and have 32-amp power connections and water outlets for every berth.
As well as berthing in the marina, it is also possible to anchor off in the lee of the breakwater giving shelter from the prevailing winds.
A boatyard is situated in the South West corner, equipped with a 160-ton travel lift and a 30-ton crane. The yard is capable of most repairs; working on your own boat is not permitted.
The town centre of Marina di Ragusa is adjacent to the marina and in easy walking distance. The town of Ragusa is a ½ an hour bus ride away and has a number of major shopping centres.
Last updated June 2017.
.
Related Businesses
Porto Turistico Marina di Ragusa

Address: Via Livorno 28, Marina di Ragusa, Sicily, Italy, 97010

All facilities, fuel berth, laundry, ATM, restaurant, car and bike rental, taxis and airport shuttle. Max length 50m. Depth 2.5-5m. 700 berths. Shops in the... Read More
Courtesy Flag

YachtFlags.com offers a discount to Noonsite members.
YachtFlags.com provides high quality courtesy flags that are manufactured in durable Knitted Polyester fabric. Knitted so that the fabric itself does not deteriorate in the constant movement that marine flags are usually exposed to, and polyester so that the flag does not weaken in the strong UV-light usually found in the main sailing areas of the world.
Use the coupon code NOONSITE_5A2B when checking out to get 10% off today.
Buy Now On YachtFlags.com
Places