Previous Page
General Info
An interesting port on the island of San Piedro, off the SW corner of Sardinia. It is a useful stopping-off point for boats making the passage from the Balearics.
There is a pretty promenade with many cafes and restaurants along the front, it seems popular with Italian tourists from the mainland. Several small, good value supermarkets a short walk into town. A couple of small chandlers selling general boat items.
In the San Pietro channel, some of the buoyage marked on the chart is missing. The frequent passenger ferries running from the mainland into the harbour can be useful indicators of the route in. It is fairly straightforward but the general shallowness of the channel can be somewhat of a shock after a long passage at sea. Take care when approaching the harbour as depths are shallower than marked.
Position 39° 08.72'N, 08° 19.08'E (harbour entrance)
Clearance
This is an official Port of Entry.
For full details on Formalities for Italy for visiting, yachts see noonsite's Italy Formalities page.
Docking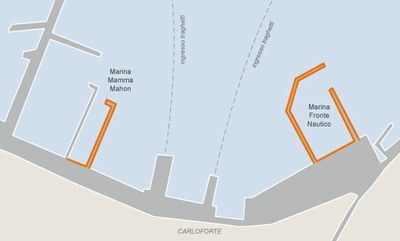 No anchoring is allowed in the harbour and be careful if anchoring outside, as the ferries approach the entrance from several different directions.
There are three marinas here, managed by two companies – Marinatour and Marina Sifredi.
The facility to starboard as you enter the harbour is Marina Mamma Mahon. Berths are available via both companies for this facility. This is where the majority of short-stay visitors normally berth as it is closer to the town and facilities.
To port, as you enter the harbour is Marina Fronte Nautico, operated by Marina Tour. This is the newest facility aimed more at superyachts.
The third marina, Marina Dei Fenicotteri, is in the southern part of the harbour by the salt pans and is operated by Marina Sifredi. It is more remote from the town, but quieter and used mainly by long stay boats.
The "ormeggiatori" are very helpful in meeting boats and helping them to a berth.
Marinatour operates the boatyard here with a 70-ton travelift and hard standing.
Last updated October 2016.
Related Businesses
Marina Fronte Nautico

Address: MARINATOUR Srl, Via Aldo Moro 1, Carloforte (Isola di San Pietro), Sardinia, Italy, 09014

Located Lat. 39° 8' 51 N / Long. 8° 18' 64 E

To port on entering the harbour and a little further from the town. New... Read More

Marina Mamma Mahon

Address: MARINATOUR Srl, Via Aldo Moro 1, Carloforte (Isola di San Pietro), Sardinia, Italy, 09014

Located Lat. 39° 8' 72 N / Long. 8° 18' 66 E

To sta'bd on entering the harbour and close to the town centre. The visitors'... Read More

Marina Sifredi

Address: Marine Sifredi, Port of Carloforte, Isola di San Pietro, Carloforte (Isola di San Pietro), Sardinia, Italy, 09014

http://www.marinadicarloforte.it/marina/ [Broken Link]

Administer berths in both Marina Mamma Mahon and Marina del Fenicotteri. This is located in the south of the port, with 200 berths,... Read More
Places
Carloforte (Isola di San Pietro), Italy, Sardinia