Previous Page
General Info
This ancient city, home of Archimedes, is on the east coast of Sicily.
The large natural harbor is a busy commercial port. This city is well worth a visit, helped by the fact that yachts get 5 days berthing for free (if they can find space – 2018).
Yachts must call the Port Authority on approach (VHF Ch.16 or VHF Ch. 11) with information of where they intend to berth, or fines may apply. You may also be asked to call again to advise on departure.
Position: 37° 3.5′ N, 15° 17.2′ E (harbor)
Clearance
Siracusa is a recognized Port of Entry.
See Italy Formalities for full details on clearing into and out of the country.
Docking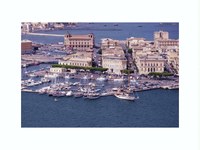 Good all round shelter, although more exposed to the SE.
The harbour here has been refurbished although there are no services (water and electricity etc.) available on the town quay.
Yachts berth (for free up to 5 days), stern-to using own anchor, at quay 11C (depth 3m) the Grand Harbour on the northern side of the town. There can be a big swell in the harbour, so care needs to be taken over where to berth. The Port Authority will allocate you space. They are located in the peach building with a blue banner on top, north of the quay.
A boat berthed here in May 2019 reported having deck gear stolen (see security reports).
The Yacht Club is situated right in the middle of town and is reported to be very friendly with good facilities. It does suffer some surge in NE winds.
There is now a small port on the southern side of the peninsula, Marina Yachting, in the area by the canal which separates Ortygia from the mainland.
There is plenty of room and good anchorages in Grand Harbour. There is a dinghy landing in the corner of the new marina.
Last updated: September 2018
Yacht Clubs