Previous Page
General Info
Located in the province of Crotone on the Ionian coast of Calabria, this is a useful haven in bad weather. It lies approx. 55 miles NE of Rocella Ionica and 15 miles SW of Crotone.

The fortress here dating back five centuries was fully restored in 2001 and is well worth a visit (picture taken by Peter Ter Haar).
Position 38° 54.55'N, 13°00.95'E (harbour entrance)
Docking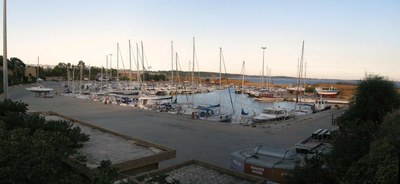 The harbour has a southern basin reserved for fishing boats and a northern basin for leisure craft (see photo left taken by Peter Ter Haar, entrance to the right of picture). It is well maintained and run by the local government.
Cruisers visiting in 2013 report that depth is a minimum of 3 metres. The shelter is good.
The northern basin has water and electricity. There are a guard / Marinero and security cameras. This basin is very well lit both night and day.
Yachts are permitted in the southern basin, but only when the fishing boats are out and the pier is fully occupied in the evening with fishing boats.
There are a good supermarket 200 metres from the harbour and a small chandlery close by.
A useful anchoring map for the Le Castella marine park, stretching around the coast to Crotone, can be found here.
Last updated March 2017.
Places
Italy, Le Castella, South Coast (Ionian Sea)