For full details of Clearance into Australia, see the Noonsite Australia Formalities page.
Australian Border Force and the Department of Agriculture carry out customs, immigration and biosecurity formalities here.
Southport is also a foreign vessel entry port. This may be easier for some yachts compared with coming up the river to Rivergate.
The yacht clearance boarding station is at the Rivergate Marina. This is located just before the first bridge in the Brisbane River. Their website (http://rivergate.com.au) has detailed information about clearing customs.
It is 30nm from the NE channel to Rivergate Marina, 6 miles further if you come through the NW channel. Current in the river is strong at Rivergate Marina; you may want to arrive at slack water particularly if short handed.
Yachts must notify Customs a minimum of 96 hours in advance of arrival. This can be done by sending an email to [email protected]; sending a fax to +61 2 6275 6331; phoning Australian Customs National Communications Centre on telephone number +61 3 9244 8973. Clearance is done by Customs, Immigration, and Quarantine.
At Rivergate Marina, yachts must proceed directly to the Customs & Quarantine Berth (indicated by yellow signs) and the marina will organize for all the officials to come to your boat.
Note that this marina is located 10 miles from the city centre, just east of the M1 River Bridge (see view of Rivergate marina below). It is remote with very few facilities close-by.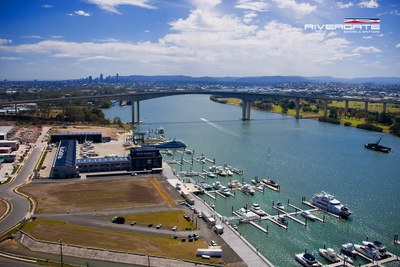 If you arrive on a weekend, you may have to get cleared in by quarantine which charges a weekend or after hours fee (approx. double the normal fee). Alternatively, Customs may just lock the gate and leave you there until Monday morning when Quarantine will clear you in (saving you the after-hours fee). This is not guaranteed, however.
The Customs office does not permit anchoring at Mud Island.
Brisbane Regional Harbour Master:
Phone: 07 3632 7500
Email: [email protected]
Last updated: December 2019
If you have information for this section, or feedback on businesses used, please let us know at [email protected]. We also welcome new information about businesses you have used (see Related Businesses).