Previous Page
General Info
Description:
A young, fast-growing city, largely rebuilt since it was devastated by Cyclone Tracy in December 1974. It sits on the eastern side of the large, 20-mile long inlet, known as Darwin Harbour, and which is fed by several rivers. It is Australia's most northerly city and is a fascinating mix of cultures.
Cruiser Highlights:
The combined presence of an active racing and cruising community and a large fishing fleet has resulted in an excellent range of repair facilities. Excellent provisioning for many local markets including the Mindil Beach Sunset Market (from April to October).
Entrance Notes and Cautions:
The tidal range in and around Darwin can vary by up to 7.8 m resulting in complex and strong currents. The waters are also home to saltwater crocodiles and Irukankji jellyfish, one of the deadliest in Australia, so swimming is not advisable.
Position:
12°24.93'S, 130° 47.45'E (harbour entrance).
Clearance
For full details of Clearance into Australia, see the Noonsite Australia Formalities page.
International Clearance
Due to the Department of Agriculture's biosecurity requirements, Yacht masters/captains who want to enter Australia at Darwin must complete a Non First Point of Entry (NFP) application form which should be submitted to the department at least 10 days prior to arrival. The completed application should be lodged via the email [email protected]griculture.gov.au.
Requesting written permission:
For more information read this Noonsite News Item: New Biosecurity Requirements affect International Yacht Arrivals.
General Clearance:
On approach, contact either a coastal radio station on 2182 kHz or the Darwin Port Authority on VHF Channel 16. There are relay stations around all of Australia's coasts, making it possible to use VHF radio over much longer distances than normal. The operator should be given the name of the yacht, number of crew and ETA Darwin and be asked to advise Quarantine and, if necessary, Customs.
Prior to the inspection, boats anchor in the quarantine area situated northwest of the commercial harbor. There are various docks where one may be directed for clearance, but because of the large tidal range and strong currents, small boats find it easiest to come alongside the Fishermen's Wharf and therefore this should be requested by radio.
Clearance is also possible at Cullen Bay Marina, but this must be agreed with Australian Border Force (Darwin) before proceeding there. Before proceeding to the Cullen Bay Pontoon, vessels must contact the Cullen Bay Lockmaster on VHF Channel 11 or mobile 0419 421 363 to seek instructions and approval on where to park for clearance.
Quarantine anchorage:
Department of Agriculture Buoy 12°28.5'S 130°49.95'E, inside Fannie Bay or on the northern side of sandbar outside of Cullen Bay / Emery Point. It is possible to shelter in Doctor's Gully if sea conditions are not suitable in Fannie Bay.
Clearance pontoon:
Cullen Bay pontoon outside of lock 12°27.112'S 130°49.233'E. Contact Cullen Bay Lockmaster (CH 11) or the Australia Border Force prior to coming alongside pontoon.
Biosecurity:
Prior to entering a Darwin marina, all yachts, Australian and others, may have to be inspected to prevent the spread of several marine pests (various species of mussel). If a boat has not recently been hauled out/antifouled in Australia (within 14 days and has the paperwork to prove it) it will have to have the hull inspected.
Yachts should call Aquatic Biosecurity on 0413 381 094 or email [email protected] to obtain clearance. The Northern Territory Governments pays for this service, which includes the hull inspection and internal treatment. Yachts must not stop anywhere along the coastline in the Northern Territory and clean their hull.
Please see this link for further information: Hull Pest Inspections for Visiting Boats
Because of the strict quarantine regulations, in the past cruising boats have had all their fresh produce, especially meat, confiscated and destroyed. The attitude seems more relaxed in Darwin where boats intending to spend a short time in Australia have succeeded in having their freezers sealed or have all tinned meat products sealed in a locker.
Clearance Out:
The procedures for departures from the Port of Darwin remain unchanged.
Contact Australian Border Force at least 24 hours before you wish to attend the office to get an appointment. This is a local requirement, so they can have your paperwork ready. Their email address is [email protected]
Last updated: February 2020
Related Businesses
Docking
Once clearance formalities have been completed, there are several options for berthing; both marinas and anchorages. Due to the very large tides (up to 8m), all Darwin marinas have tidal sluice gates to lock the water in the marinas.
Catamarans
The majority of tidal sluice gates have restricted width on entering. Cullen Bay has sufficient width, (maximum 9.5m) but limited availability so it is recommended vessels book in advance. The only other option for catamarans is the Frances Bay Mooring Basin, also known as the "Duck Pond' which is managed by the Darwin Port Authority (DPA). This is a commercial basin where heavy engineering maintenance of the fishing fleet is conducted. The DPA allows larger cruising yachts and wide beam catamarans into this marina when space permits (generally when the prawn trawlers are at sea).
Anchorages
Fannie Bay (approximately 12º25S 130º 50'E), off the Darwin Sailing Club (which offers temporary membership). Good holding in mud. Possible to leave the dinghy directly in front of the sailing club buildings.
A second anchorage is located east of Darwin Wharf (approximately 12º28'S 130º51'E), but this is exposed to the southeast winds that prevail in July and August, and there are no facilities nearby.
Related Businesses
Bayview Waters Marina

Address: Bayview Boulevard, P.O. Box 801, Parap, Darwin, Northern Territory, 0804

Access is via a lock (open 07:00 to 18:00 local time). Maximum depth 2.5m. All facilities. No fuel berth. Fisheries NT clearance (0413 381 094)... Read More

Cullen Bay Marina

Address: 3/68 Marina Blvd, Larrakeyah NT, Larrakeyah, Northern Territory, Australia,

Inside the Marina, there are good facilities with security entry and a range of repair services, (Cullen Bay Slipway), laundry, chandlery, bars, and restaurants. 3rd... Read More

Frances Bay Fishing Boat Harbour ('Duck Pond')

Address: Frances Bay,

Tel: +61 (8) 8942 1453 / Mob: 0401 117 062 (lockmaster) Fax: +61 (8) 8941 5395, VHF Channel 68, 11

This is primarily a facility for... Read More

Harbour Master – Darwin

Address: Australia,

Tipperary Waters Marina

Address: Location 12°26'58"S, 130°51'10"E, GPO Box 4764, Darwin, Northern Territory, 0801

Marina facilities include laundromat, bar/restaurant, supermarket, fast food outlet. Chandlery and sail maker 2 min. away. Live-aboard surcharge charged/day/power connection. All clearances are to be... Read More
Yacht Clubs
Related Businesses
Darwin Sailing Club

Address: Fannie Bay, P.O. Box 117 Prap, Darwin, Northern Territory, 0804

Visiting sailors may become temporary members for a small fee. The club has comprehensive facilities, washing machines and dryers, and a very good restaurant serving... Read More

Dinah Beach Cruising Yacht Association

Address: Frances Bay Drive, Darwin, Northern Territory, Australia,

Situated close to the Mooring Basin and Sadgroves Quay, overlooking Sadgroves Creek. Dinghy dock, club restaurant, toilets, showers, laundry.

This informal club is very welcoming to... Read More
Courtesy Flag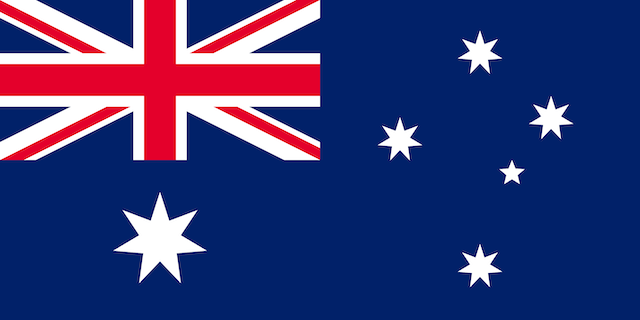 YachtFlags.com offers a discount to Noonsite members.
YachtFlags.com provides high quality courtesy flags that are manufactured in durable Knitted Polyester fabric. Knitted so that the fabric itself does not deteriorate in the constant movement that marine flags are usually exposed to, and polyester so that the flag does not weaken in the strong UV-light usually found in the main sailing areas of the world.
Use the coupon code NOONSITE_5A2B when checking out to get 10% off today.
Buy Now On YachtFlags.com