Previous Page
General Info
This is the closest Port of Entry into Australia from New Caledonia and Vanuatu.
Position 24°51′0″S, 152°21′0″E.
Clearance
For full details of Clearance into Australia, see the Noonsite Australia Formalities page.
Boats must proceed for clearance to Bundaberg Port Marina, where there are allocated berths for clearance. This marina is one nautical mile upstream from the river entrance, as it is no longer possible to clear in at Burnett Heads Marina at the river entrance.
If your hull is clean and of fibreglass, then clearance is fast and hassle-free.
There is a temporary anchorage area located near the Bundaberg Port Marina for after-hours arrivals (see docking section below for details). Clearance will be conducted from 8 am the following day. The quarantine anchorage can be clearly seen in the aerial photograph (below).
Last updated: May 2015
Docking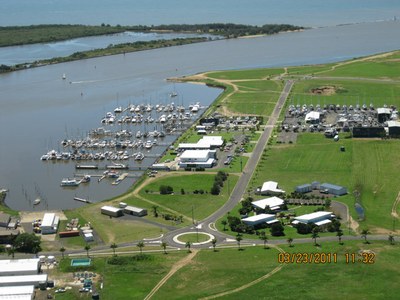 Enter the Port via deepwater shipping channel into the "runway" of lead lights guiding you into the all weather access of the Port of Bundaberg – no problem day or night. In this stretch of the river, there are two marinas to choose from.
Burnett Heads Marina is immediate to port going in and Bundaberg Port Marina (see photo) is just around the first point to port, one mile upriver.
If arriving at Bundaberg Port Marina after dark, you may be lucky and find a hammerhead free. Alternatively, yachts can anchor just before the marina, to the west of it on the south side of the river. Take care as the Anchorage area is now smaller than shown on the charts due to new flood defenses. There MAY be a yellow quarantine mooring there. You can also anchor on the seaward side of the point before the quarantine anchorage. Do not be tempted to anchor between the channel and the marina due to the large number of fishing boats using this area.
Note: Midtown Marina no longer exists after being badly damaged in the floods of 2013.
Caution: Be advised that this river can rise significantly (3m+) in heavy rains. Choosing where to moor your boat is important and good guardinage should be considered if leaving the boat.
Last updated: May 2015
Yacht Clubs
Places
Australia, Bundaberg, Queensland