Previous Page
General Info
Situated about 50 miles north of Cairns, Port Douglas is a key base for exploring the Great Barrier Reef. There are a large number of boat charter and diving operations in the town. It is also a useful place from which to explore the tropical rainforests.
Position 16° 28.62′ S, 145° 27.70′ E (entrance channel)
Clearance
Docking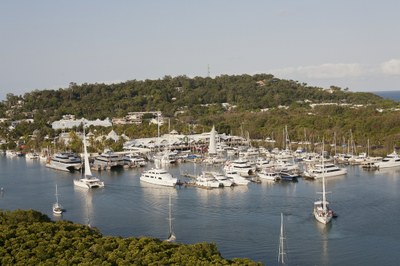 There is a large marina here as well as a small one and several anchorages opposite the port and further up the river. The entrance to the habour as well as the marinas are dredged to a minimum of 2m. Call VHF channel 16 or tel: 0740995775 for the local conditions.
On the way into the port, before the marinas, is a public pontoon where free mooring is allowed for 60 minutes. Clean water is available there and it is also close to a supermarket and a bank.
The long line of pile moorings is controlled by the Douglas Shire Council which is located in Mossman. Further upstream there is room for visitors to anchor. An alternative anchorage in the south-east season is the lagoon at Low Isles.
The sheltered waterways beyond the marinas are designated anchorages for use in the event of a cyclone alert (Dickson's Inlet and Packers Creek).
The port is well supplied with shipwrights, riggers, engineering, electronic & electrical services, a sailmaker and limited chandlery.
The large Crystalbrook Superyacht Marina (formerly Reef Marina – see photo) was bought for re-development in early 2018. This marina is close to the town, and there are a bus service and a tourist train between the two.
The Closehaven Marina is a little further away and rarely has extra space.
Last updated: February 2018
Crystalbrook Superyacht Marina
Yacht Clubs
Places
Australia, Port Douglas, Queensland