Previous Page
General Info
Coffs Harbour lies about 200nm south of Brisbane. Once a fishing village, it still retains its original charm even though it is now a city. This area has a great climate and is a favourite holiday destination with a backdrop of mountains and fronted by sandy beaches.
There are a large number of water-based activities to choose from here. It is also surrounded by several National parks which include an important marine reserve. The growing of bananas is a big industry here.
Location 30°18'16″S,  153°8'42″E.
Clearance
For full details of Clearance into Australia, see the Noonsite Australia Formalities page.
Anchor in the inner or outer anchorage whilst waiting for room inside the marina for clearance.
Australian Border Force carry out all formalities here (customs, immigration and quarantine) and cruisers report them to be very friendly and professional.
Last updated: July 2018
Docking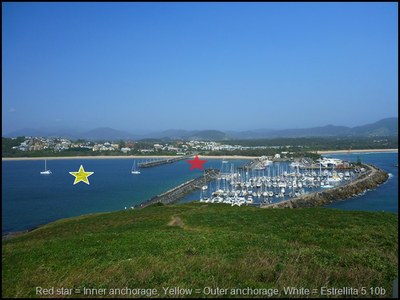 Yachts can anchor in the inner or outer anchorage, or take a berth in the marina (depending on availability). Photo courtesy of SY Estrellita.
Arrival at night is reasonably straightforward with huge blue leading lights to line up.
The inner anchorage (red star) is more protected in general from the swell and is between the old pier and the marina.
The outer anchorage (yellow star) is anywhere outside of the old pier including close up against the breakwater to the SE. In general, it can be pretty roly in the outer anchorage. There are two (free of charge) mooring buoys between the old wooden jetty and the breakwater of the inner harbour.
This is a very easy place to walk and bus to get various supplies. There are many small restaurants in the marina area itself and a 5-minute walk outside the marina. If you want quick groceries, there is a small IGA close by and a very large Cole's supermarket further away towards town.
There are beautiful beaches on either side of the marina with lots of activity. The small hill overlooking the marina is a good walk.
Last updated: September 2016
Yacht Clubs
Places
Australia, Coffs Harbour, New South Wales