Previous Page
General Info
This famous city is probably a must on any cruise down Australia's east coast.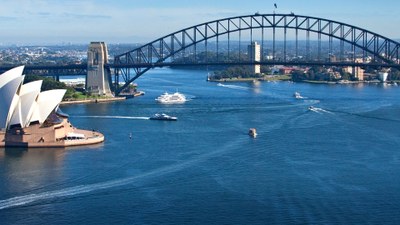 Sydney Harbour: ©www.australia.com
Position 33° 44'S, 151° 17'E (entrance to harbour)
Clearance
For full details of Clearance into Australia, see the Noonsite Australia Formalities page.
Ensure pre-arrival procedures are followed correctly.
Yachts approaching Sydney should contact Sydney Maritime or Sydney Radio on VHF Channel 16 who will direct you to either the Customs berth in Neutral Bay (Latitude: 33°50.490'S / Longitude: 151°13.043'E) or to the quarantine buoy at the entrance to the harbour in Watsons Bay (Latitude: 33°50.54'S / Longitude: 151°16.63'E).
Co-ordinates provided by Border Force.
Last updated: November 2015
Docking
Sailing into this harbour must be a landmark on any cruising itinerary.
Note that there is a 15-knot maximum speed limit in Sydney Harbour for vessels traveling under the Sydney Harbour Bridge and all vessels will not be permitted to stop or drift under the Bridge. The restriction applies in a safety zone 600m east of the bridge and 700m to the west. NSW Maritime boating officers patrol and monitor the zone, and penalties apply for non-compliance.
Anchorages
A recent change to Maritime Safety laws in late 2016 means that yachts that visit Sydney and plan to anchor are welcome for 28 days and no more. Otherwise, you must get a mooring or a slip. Yachts are monitored by Maritime NSW. Note also that tenders with more than 5HP motors have to be registered.
See this news item for further details.
After passing under the bridge, there is a designated "small craft" anchorage on the northern side, at Balls Head Bay. Whilst facilities are limited, access to the city is cheap and easy from nearby Wollstonecraft railway station. Unfortunately, the anchorage has a reputation for a foul bottom, and is uncomfortably open to southerly winds.
Blackwattle and Rozelle Bays are good places to anchor in Sydney to get access to the Central Business District, Blackwattle Bay being the quietest with the least wash from passing commercial vessels. There are three designated areas for anchoring. The anchorages most closely located to the fish market dinghy dock are the most popular and also the most crowded. The farthest anchorage area, whilst only three tenths of a mile further from the dingy dock, is much quieter and has a very nice park only a few metres away. Both bays have good holding and are protected from all wind directions. The downside is the traffic noise from the bridge and bits of junk on the bottom, plus the mosquitos at sunset.
There are also a number of public moorings available in the harbour (Athol Bay, Sugarloaf Bay, Bantry Bay). These are heavily used during the summer months, especially on weekends, so it's advisable to arrive early.
See this cruisers report on two amazing anchorages in Sydney.
Marinas
There are a large number of marinas around Sydney Harbour and the ones included here usually have room for visitors.
Last updated: March 2017
Australian Sailing & Cruising Club Inc.
Cruising Yacht Club of Australia
Rose Bay Marina and Point Piper Marina
Royal Prince Alfred Yacht Club
d' Albora Marinas Cabarita Point
Yacht Clubs
Places
Australia, New South Wales, Sydney