Previous Page
General Info
This group of islands off the Queensland coast is one of Australia's most well-known cruising areas. The largest of the islands is Whitsunday Island itself, and it is surrounded by many others. The biggest of these being Hook, Border, Haslewood, Hamilton, Lindeman, and Shaw.
Position 20° 15.33'S, 148° 56.79'E (W side Whitsunday Island)
Docking
Marinas
There are marinas at Hamilton Island and at Abell Point (Airlie Beach – see photo). At Abell Point, there is a private anchorage available outside the breakwater under separate management to the marina. Abell Point Marina can take vessels up to 80m.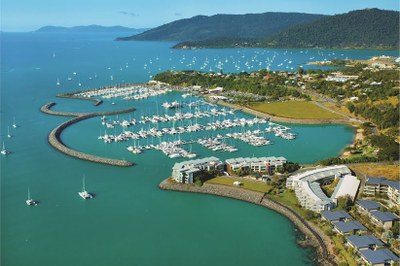 Note that even though the channel to Laguna Quays Marina has silted, it is still accessible with sufficient rise of tide.
Anchorages
There are many safe anchorages, usually protected by reefs, among The Whitsundays, so in finding a safe haven for the night, you are spoilt for choice.
Maureen's Cove (location 20° 04.10'S, 148° 56.32'E:
There are 3 public mooring in this cove on the northern side of Hook Island.
False Nara Inlet, Hook Island: It is to the left of Nara Inlet and has 2 public moorings.
Cid Harbour
This anchorage is located on the western side of Whitsunday Island and is both deep and well sheltered. There is a beach landing there.
For more information about overnight anchorages around the Whitsundays, see www.whitsundayescape.com
Last updated: September 2018
Yacht Clubs
Places
Australia, Queensland, The Whitsunday Islands