Previous Page
General Info
This group of islands, of which Lord Howe is the largest, is a World Heritage Site recognized for its natural beauty and heritage. It lies approximately 400 miles NE of Sydney.
Location: 31°32'S 159° 2′ 34″E
Useful Links
http://www.lordhoweisland.info/
Clearance
Lord Howe is no longer a customs port of entry.
Yachts wishing to visit must first clear into Australia.
For full details of Clearance into Australia, see the Noonsite Australia Formalities page.
However, yachts will be inspected by Customs on arrival and certain foodstuffs are likely to be confiscated.
Prior to departure for Lord Howe, yachts must contact the Lord Howe Island Board to obtain a permit to moor. The necessary documents can be downloaded from this official site. There is also a link on this site to the document with Information for Visiting Vessels.
Skippers are also advised to contact the Lord Howe Island Port Operations Manager prior to departure for the Island and he will also require to see your mooring permit on your arrival.
Lord Howe Maritime monitors VHF Channel 12 & 16 and is run by Clive and Craig Wilson. Craig and his wife Karen can be found at Wilson's Hire Service, [email protected], Tel: (02) 6563 2045 on Lagoon Rd., just past the Hall. They rent excellent mountain bikes for $8 per day. The island policeman also monitors VHF 12 & 16 during office hours.
Last updated: October 2015
Docking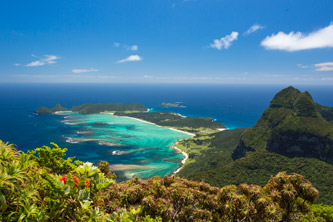 Call the Harbour Master/Policeman on VHF Channel 12 for directions for entering the lagoon.
All vessels are required to use one of the 16 mooring buoys provided. Anchoring here is not permitted, nor is entry by night. If draft or weather conditions do not allow entry to the lagoon, then advice via VHF radio will be given to pilot the boat to an alternative anchorage.
The moorings are .5 to .75 of a mile from the shore, a journey best undertaken in a substantial dinghy.
Port and landing fees are payable at Lord Howe Island Board (LHIB) office on Bowker Ave., a ten-minute walk from the wharf.
Mooring Fees (2015): $44 per night ($88 minimum charge) or $278 per week (Prices include GST).
Administration Booking Fee $33.00 (non-refundable)
Environmental Levy: $41.20 per person one-off payment (GST exempt).
Fees can be paid at the Board's Administration Office in Bowker Avenue between 8:30 am and 4:30 pm Monday to Friday at the Lord Howe Island Board Administration Office or at the Liquor Store between 1:00 pm and 4:30 pm on Saturday. Please note that payment cannot be made on Sunday.
No refuse or liquid waste of any type can be discharged into the lagoon. Without a holding tank, the heads cannot be used. Much of the waters surrounding Lord Howe are an NSW Marine Park with certain fishing restrictions. A brochure is available from the Island Board mapping the fishing/no-fishing areas.
There is water, toilets, showers and a washing machine in the building on the jetty. Gold coin donation appreciated. If locked, the key is available for a deposit from the LHIB office.
Last updated: October 2015
Places
Australia, Lord Howe Island, New South Wales