Explore: Tanjung Pinang (Bintan Island, Riau Islands)
Previous Page
General Info
Tanjung Pinang is the ferry port on the western side of the large island of Bintan, which, itself lies immediately east of Bantam Island. It is the largest city on Bintan island and a useful provisioning stop with its wonderful market, however, be warned, the port itself is extremely dirty with a great deal of debris in the water.
Position 0°56'N, 104°27'E. (Tanjungpinang)
Clearance
NEW Indonesian CIQP procedures came into effect from the 27th February 2016.
A CAIT, Green Book/Sailing Permit and use of an Agent to obtain clearance papers are no longer required. See Noonsite Indonesia Formalities for full details.
Cruisers have reported having problems in Tanjungpinang when clearing out (see report here) and it may be wise to consider alternative options, such as Belitung.
The most straightforward place to complete both inward and outward clearance is at the Bandar Bentan Telani Ferry Terminal on the North coast of Bintan, now called Bintan Resorts Marina (see details below), however, there is an agent fee here for clearance.
Last updated: November 2018
Docking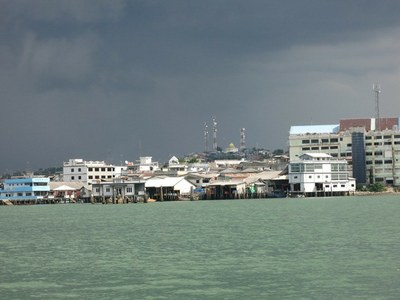 Photo of the port of Tanjung Pinang, courtesy of Chris Marchant
Approaches
The harbour approach is straight forward and easily navigable, however, ferry traffic can be heavy depending on the time of day. The many fast ferries will indicate the route in, but the buoyage is clear and the leading line accurate.
Anchoring
There is an anchorage in good firm mud near the fuel barge at 00° 56.17'N,  104° 26.267'E (fuel for ferries only, not possible for yachts).
Protection is good and the wash from ferries is not a nuisance as the ferry terminal is slightly downstream. Tugs and tows use the river so it is important to keep the airway clear.
Fuel is not available at the barge for yachts, only by jerry can at a stilt house with plants on its boards, 250m up the river.
Getting Ashore
Landing can be made at one of the small piers used by local ferries. Either the one painted yellow or at the excellent Chinese fish restaurant just north of it.
It is easy to get a water taxi ashore during the day (just flag one down) but more difficult at night. Security might be an issue, as it has been in the past, so take normal precautions.
The locals are very welcoming.
Marinas
Once you have completed clearance, many cruisers don't want to hang about in this harbour due to the filthy state of the water. The Bitan Resorts Marina on the north side of the island is an alternative option or Nongsa Point Marina on the neighbouring island of Batam.
Last updated:  November 2018
Places
Indonesia, Tanjungpinang (Bintan Island and Riau Islands), Western Indonesia - Bintan/Lingga/Riau and Anambas Islands