Previous Page
General Info
COVID-19: OPEN PORT
See Indonesia Biosecurity for more details.
Description:
Kupang is a busy port situated at the western end of the island of Timor. It is a popular Port of Entry for entering Indonesia from Darwin, Australia or for clearing out of Indonesia on the way to Australia.
Position:
10°10'S, 123°34'E.
Clearance
Coronavirus (February 2020): There are strict quarantine controls in place in Sabang and likely in other ports of entry. See Formalities for all the details.
This is an official Port of Entry.
NEW Indonesian CIQP procedures came into effect from the 27th February 2016.
A CAIT, Green Book/Sailing Permit and use of an Agent to obtain clearance papers are no longer required. See Noonsite Indonesia Formalities for full details.
Clearing-in
Cruisers recommend doing the clearance yourself here. Dinghies can be landed on the beach where there will be a great many local "touts" offering a variety of services.
Quarantine (Kesehatan Pelabuhan), Customs (Bea Cukai) and the Harbour Master are all close together near the Port. Be sure to ask for a receipt if charges are levied. The Harbour Master (Syahbandar) does not need to be visited until 24 hours before departure.
Customs will probably want to inspect your boat and you will have to take them out there in your dinghy. Bear in mind you will have to visit Customs twice: First to schedule a boat inspection, and again to pick up a temporary import certificate.
Then proceed to the bank (PT. BANK RAKYAT INDONESIA (PERSERO) Tbk.) to pay the US$ 35 for the Visa-On-Arrival. A receipt will be given.
Finally, finish up at Immigration (Imigrasi), located out by the airport. You will need to take a taxi (approx. 45'000 one way).
Be sure to have plenty of copies of all your documents.
Clearing-out
Visit Imigrasi first – take four copies of crew passports (showing photo AND visa page), four copies of the vessel registration and four copies of the crew list. All four departments will take a copy. Also take all clearance paperwork from your last port, cruising declaration form and vessel declaration which you got when clearing-in. You will get a departure stamp in the passports.
Now drive back to the port to visit Quarantine, Customs, and the Harbour Master. Expect to clear out to take about four to five hours.
Further details and information from cruisers who have cleared into and out of Indonesia here can be found at this Noonsite report.
Cruisers report this is not a good place to do visa renewal (see comment by Catamaran JAVA in the Related User Comments section).
Last updated: March 2018.
Related Businesses
Frenky Charles Manafe

Address: Jl Taruna Rt 05 Rw o3 Kelurahan Tode Kisar, Kupang, Eastern Indonesia - Timor, Indonesia,

Yacht service Agent in Kupang. Speaks good English. Clearance for Indonesia and West Timor (plus organises food delivery, fuel, tour and money change). Sponsor for... Read More
Docking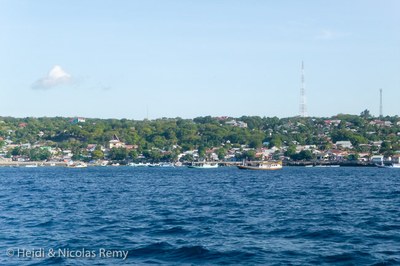 Photo of Kupang anchorage from Nicholas Remy.
This anchorage is exposed to the NW and a lee shore in most weather. Conditions can get boisterous in the afternoon when the northerly breeze sweeps down the anchorage, quite strong at times, raising a nasty wind chop. Skippers should be diligent and keep an anchor watch on board, in particular in the afternoons, for any dragging or neighbouring yachts doing the same.
Fortunately, this weather is rare for July when most yachts visit.
From the east or west, approach the given longitude [E 123 deg 34.83 min] visually during daylight or in-depth >20m at night (watch for local anchored vessels probably unlit) and close to the desired anchoring depth directly OFF the prominent red/white telecom mast behind the buildings lining the beach.
There are about 50 feet of water and the holding ground is good.
The latest report on the anchorage off the area known as "Teddy's Bar" (some distance to the west of the waypoint given) is that the holding is good in 6m in mud and sand. It is popular with yachts due to its convenience to town but can be noisy.
The anchorage just outside the creek is also good holding in 6m, sand and mud (apparently where Captain Bligh anchored!). The area due west of this is not so good, mainly coral rubble.
When going ashore take care of local fishing boats that are anchored fore and aft to the beach (where Bligh stepped ashore in 1789). These boats are unlit at night. The surge can be quite strong so quick action on the beach may be required.
Teddy's bar hard is by the beach which makes things a little easier with the dinghy. There are however a "consortium" of locals here who offer to watch your dinghy for 50000idr (non-negotiable) per day. If you want a taxi, walk a short way out of Teddy's bar to hail one.
Last updated: November 2017.
Courtesy Flag

YachtFlags.com offers a discount to Noonsite members.
YachtFlags.com provides high quality courtesy flags that are manufactured in durable Knitted Polyester fabric. Knitted so that the fabric itself does not deteriorate in the constant movement that marine flags are usually exposed to, and polyester so that the flag does not weaken in the strong UV-light usually found in the main sailing areas of the world.
Use the coupon code NOONSITE_5A2B when checking out to get 10% off today.
Buy Now On YachtFlags.com
Places