Previous Page
General Info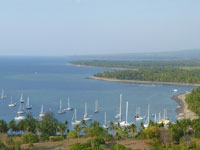 This bay is just east of the Oberoi peninsula at the northern end of Lombok's west coast.
It offers a protected anchorage during the South East Monsoon but is open to the north so should be avoided during the NW monsoon (mid-Dec to March). There is also a marina here with good facilities and a slipway with 38T trailer scheduled for June 2018 – the first haulout facility for sailboats in South Central Indonesia.
Close to the three Gili Islands and with views of Mount Rinjani to the east at 3,726m, this is a very quiet and restful place.
Position: 8° 21.9'S, 116° 7.8'E.
The Marina website has good approach information on it, which is accurate and haulout will be possible here from 2019. (Photos from MBM website).
Two major earthquakes of 6.9 and 6.4 magnitudes rocked the island of Lombok in the first week of August, destroying many villages in the north of the island, killing more than 400 people and leaving thousands homeless. Services are back to normal although help is still needed, and donations still much appreciated. See the Related User Comments section.
Last updated: November 2018
Clearance
NEW Indonesian CIQP procedures came into effect from the 27th February 2016. A CAIT, Green Book/Sailing Permit and use of an Agent to obtain clearance papers are no longer required. See Noonsite Indonesia Formalities for full details.
This is now a Port of Entry (since April 2018). You can clear into Indonesia here by searching "Medana Bay Marina" in the drop-down menu on the Yachters website.
Clearance is available through the Marina who can also assist with sponsorship letters for Indonesian immigration requirements.
Last updated: October 2018
Docking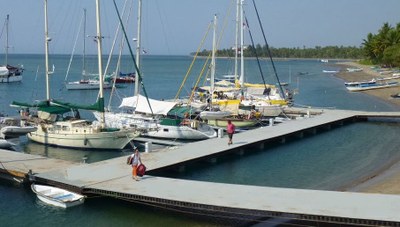 The bay is open to the north, so maybe quite rolly during the NW monsoon (mid-December to March), however, mooring blocks and ropes are checked regularly to ensure the safety of the moorings.
Marina
The villagers here have built a small marina with two serviced floating pontoons of 30m length, berthing is alongside.  There are also 14 mooring buoys of varying depth, with a maximum capacity of 25 tonnes.
Access to/from the dock is easiest when the wind is lighter i.e. early or late in the day. You can anchor or take a mooring to wait until the wind has eased.
Anchoring
There is anchorage space available as well. Yachts are charged a small fee for anchoring to cover the cost of shore-side facilities (dinghy dock, showers and toilets, WiFi etc.).
Services
The Marina can arrange laundry, fuel, small repairs, cheap massages and tours of the island.
A new slipway here is now complete along with a 38T Roodberg Hydraulic Trailer. This will be the first haul-out for sailboats in South Central Indonesia and should be operational by early 2019.
Ashore
Hotel Oberoi is a short walk away and dinner there is very reasonable. Free WiFi is available at the beach cafe/restaurant on site.
Tanjung, the local town, is 4 km away and has a good morning market, numerous ATMs, pharmacies and a post office. For larger supermarkets, as well as western food (butter, cheeses etc) it's best to go south to the capital. The marina can organise air-conditioned cars and drivers to take you there or to take you for sight-seeing tours. The roads on Lombok are good, although the traffic can be quite heavy around the capital.
Cruisers report this is a more comfortable alternative to the often rough anchorages on Gilli Islands.
See this report by SY Yindee Plus about a visit here in 2014.
Last updated:  October 2018
Related Businesses
Medana Bay Marina

Address: Teluk Dalem Kern, Tanjung, North Lombok, Medana Bay, South / Central Indonesia - Lombok, Indonesia, 83352

Location: 8°21.83' S, 116° 07.75' E ,

Pontoon berths and mooring buoys. Water (non-potable), electricity, showers and toilets, jerry cans of fuel can be filled, laundry... Read More
Places
Indonesia, Medana Bay, South / Central Indonesia - Lombok