Previous Page
General Info
Located on the eastern side of the southern tip of Bali, Benoa lies about 12 kms (eight miles) south of the city of Denpasar.
Benoa Harbour
Position: 08°45″S, 115°14″E (Benoa Harbour entrance)
This harbour is restricted by the tide in parts and its entrance – on the Lombok straight – can be tricky, with 8-knot currents and sometimes standing waves if there is a swell and an opposing current and tide that sets to the South. Time things carefully when planning on entering. Currents flow south during the SE monsoon and north during the NW monsoon.
The pass through the reef leading into Benoa Harbour should not be negotiated at night as the lights can be confusing. Benoa Harbour is a very busy commercial harbour and the boats are pretty packed in places. Parts are very shallow, and the shoal extends well into the marked channel in places, especially on the north side of the outer channel.
Serangan Harbour
Position: 08°43″31'S, 115°15″11'E (Serangan Harbour entrance)
This harbour lies 1 KM to the north of Benoa and is accessed through a separate channel through the reef. It offers two protected anchorages.
Clearance
This is an official Port of Entry.
NEW Indonesian CIQP procedures came into effect from the 27th February 2016.
A CAIT, Green Book/Sailing Permit and use of an Agent to obtain clearance papers are no longer required. See Indonesia Formalities for details on clearing into and out of Indonesia.
Previously any yachts docked at Bali International Marina needed to use the marina office as a clearance agent, but due to the recent changes in the regulations, this should no longer be obligatory.
Customs in Benoa are reported to be very friendly and understand the new clearance system. They do however require that yachts that clear in here return in person every six months to renew the Vessel Declaration Form – reporting by e-mail is currently not permitted here (as it is in Sabang for example).
Location of offices
CIQP Clearance is still required, but hopefully should be a lot simpler now the new system is in place.
All the necessary offices are south of the marina within walking distance – except immigration which is in Benoa town ($8 taxi ride). The Harbour Master's office must be visited first, followed by Navy, Immigration, Quarantine and Customs, before returning to the Harbour Master.
Last updated: November 2017.
Docking
As an alternative to Bali International Marina in Benoa Harbour (which is small and often full), there is a good anchorage very popular with the cruising community in the bay opposite the village of Serangan. Serangan is really just a small island, attached to Bali by a causeway.
Benoa Harbour
A buoyed channel leads to Benoa Harbour and Bali Marina is located in the NE part of the harbour. The marina monitors Channel 77 during office hours (08:00- 20:00). Bali Marina is small- about 20 slots – most of which seem to be filled with resident boats. There is a restaurant/bar area but prices are expensive by Indonesian standards (2012: US$25/day for a berth), and there are no moorings available via the marina. The marina charges a US$5/day landing fee to tie up dinghies. There are moorings here, run by a local who will find you if you pick one up.
July 2019 reports indicate that the Bali Marina is in a serious state of disrepair and can be quite hazardous depending on the berth assigned and weather conditions. For additional information see Related User Comments.
A few sailboats manage to anchor north of the marina and moorings, but it is very shallow and space is very limited here.
Serangan Harbour
This lies one km north of Benoa and is accessed through a separate channel through the reef. Multiple masts are visible from the Lombok Channel and the channel into Serangan anchorage is marked by a couple of red-and-green floating buoys. The entrance is 10m wide marked by small unlit buoys, passing through the breaking reef. Entrance by night should be avoided.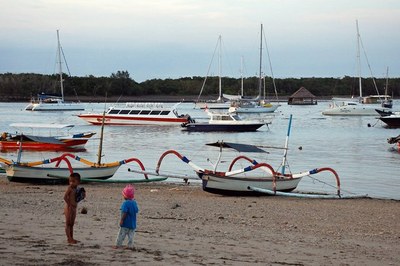 Once inside the buoys, you have two well-protected anchorages with about 30 or 40 moorings that cater to a mix of cruisers and local boats. Even if these fill up, there is still plenty of room for anchoring. This harbour is well protected from the NW monsoon, but more open to the SE. (Photo of anchorage from sv-totem.blogspot.com May 2013).
The price of all moorings here includes a US$70/month (Rp 600,000) Village Fee, which is supposed to go to the people of Serangan. The moorings cost US$10/day.
Moorings can be booked via Isle Marine Services, Serangan Yacht Services or Mande Yacht Service (see details below).
There is plenty of room behind the reef to anchor in 7m mud. In fact, with the SE monsoon, there is less of a fetch here than at the moorings, but it's less convenient for getting ashore. Swell protection is good everywhere at Serangan. You cannot anchor inside of where the moorings start as the area dries at low tide.
There are two docks, in constant use, where you can tie your dinghy. Security does not appear to be a problem here.
Drinking water is available from the shops in the village, there is a supermarket not too far away and a fuel station on the main road out of Serangan. A local market operates from about 06:00 to 10:00 daily on the ground floor of the large tsunami shelter, about five minutes walk from the dinghy dock. Fresh vegetables and fruit are available.
This is a friendly, traditional place, with lots of temples.
New docking facility
The Royal Bali Yacht Club and YSC have joined forces to create a new pier for fast ferries and new 12m pontoon for large yachts, located on the Mertasari Beach side of Serangan Harbour to the north. There are plans to expand this facility during 2018. See Related User Comments for more information.
Last updated: July 2019
Mande Yacht Service (pro. "Monday")
Related Businesses
Places
Benoa, Indonesia, South / Central Indonesia - Bali