Previous Page
General Info
COVID-19: OPEN PORT
See Indonesia Biosecurity for more details.
Description:
Kumai is a small port town in Central Kalimantan province and is a gateway to Indonesian Borneo's gold mines and timber forests. It lies a short distance up the Kumai River.
This is the best place to arrange a tour of the Tanjung Puting National Park, an important conservation area because it preserves the endangered species of Orangutan (Pongo Pygmeus) known to live on only two islands: Sumatra and Indonesia Borneo. See Kumai/Shore Services/Activities for more information.
If arriving at night, there is an anchorage in Kumai Bay. Visibility can be poor here and there is an abundance of fishing boats to watch out for, which tend only to be lit by small red flashing LED lights. There are also uncharted fish traps outside the river entrance. A daylight entrance is recommended.
Position:
02° 54'21″S, 111° 43'35″E (Kumai bay)
Clearance
This is an official Port of Entry.
See Noonsite Indonesia Formalities for full details.
The Harbour Master's office is close to the ferry dock. You can reach it via the only main road, it is facing the river.
The Immigration Office is in the neighbouring town of Pangkalanbun (a 20-minute taxi or motorcycle ride). Your driver will know the way if you ask them to go to "Kantor Imigrasi".
Note, if clearing out of Indonesia where there is a very good supermarket in Pangkalanbun and hiring a car for the day is very reasonable.
You can check in or out of Kumai, but not extend your visa here. If you need to extend a social visa in Kalimantan, you have to take a four-hour taxi ride to Sampit. The processing of the extension takes one complete day.
There are various individuals here who can assist with other services for visiting yachts. See General Services for more information.
Last updated: May 2022
Docking
Approach
Kumai lies about five miles up the Kumai River. The river is best entered in daylight conditions and after low tide. With rising waters, you will be pushed into the river by the tidal current. After entering, it is best to follow the directional lights and signals in the lower part of the river. After Teluk Kulang, you can simply stick to the middle of the river.
Cruisers have reported that Jeppsen C-Maps is a bit more detailed than Navionics charts in the river.
If you arrive in the dark or at the wrong state of the tide, there is an anchorage with good holding (but a lot of currents) in Teluk Kulang, just behind the first bend of the river.
Suggested river waypoints can be found at this website link.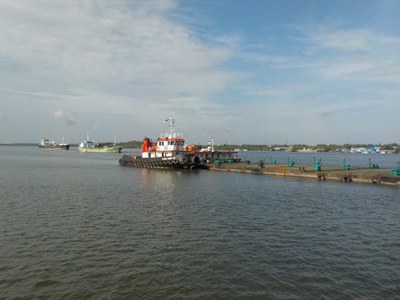 Anchorage
It is recommended to anchor approximately 100m from the eastern bank of the river, just in line with the freight ships, tug boats and barges waiting to be loaded with crude palm oil at the Kumai terminals (photo courtesy of Fritze von Berswordt). This position puts you just across from Kumai town, which is situated on the opposite bank of the river.
The river flows direction changes with each tide, but holding
is good in mud and about 8m of water. The anchorage is safe, but be sure to apply reasonable security such as pulling up your
dinghy at night and locking your boat when sleeping or not on board.
Dinghies can be left at the speed boat dock between a restaurant (on stilts) to the left and a small supermarket to the right. It is best to tie it very close to shore below the stilted supermarket as you will then be out of the way of the busy speed boat captains and their colourful vessels.
If you are leaving your boat to take a tour up-river, an on-board watchman can be arranged via your guide.
Last updated: January 2016.
Courtesy Flag

YachtFlags.com offers a discount to Noonsite members.
YachtFlags.com provides high quality courtesy flags that are manufactured in durable Knitted Polyester fabric. Knitted so that the fabric itself does not deteriorate in the constant movement that marine flags are usually exposed to, and polyester so that the flag does not weaken in the strong UV-light usually found in the main sailing areas of the world.
Use the coupon code NOONSITE_5A2B when checking out to get 10% off today.
Buy Now On YachtFlags.com