Previous Page
General Info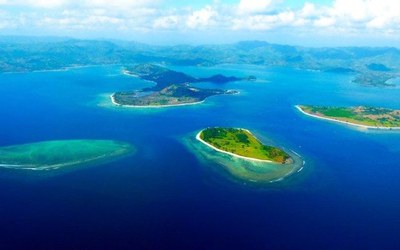 Description:
Gili Gedi island is located off the southern end of the west coast of Lombok. (Not to be confused with the Gili Islands off the NW coast). It is in a sheltered bay close to the coastal town of Tembowong, approx. 15NM west of the harbour town of Lembar. It is one of several islands clustered together, very sheltered and surrounded by hills. (photo courtesy of Marina Del Ray).
There are no motorized vehicles on the island, so to move around you take the coastal path, a horse-drawn cart or a taxi boat.
Marina Del Ray, at the southern end of the island, now has pontoons and other services available and is now a Port of Entry for Indonesia. Advance arrival notice is requested. There are bars and restaurants on the island and some provisions.
Cruiser highlights:
This is now a 24 hour international clearance port with a marina which is continually improving services for visiting yachts. Amenities include a swimming pool, WiFi, repair facilities.
Position: 08° 45′ 45″S, 115° 56'01″E (marina moorings)
Last updated: April 2019
Clearance
See Indonesia Formalities for full details.
International Clearance:
This is now a Port of Entry and clearance is available through the Marina del Ray Office. Marina staff can also assist with sponsorship letters for Indonesian immigration requirements.
Log in to https://www.lombokmarinadelray.com/clearance and register your boat and the marina will send back a Vessel Declaration (VD). This allows any yacht to enter into Indonesian waters and provided they have this document lets them clear in at Lombok Marina, Port Gili Gede. Boats using this clearance service will also get free sponsorship for a 60 day social visa.
Last updated: April 2019
Docking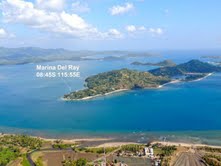 Anchorages:
This area provides a sheltered anchorage in 15 meters with good holding on a sand bottom.
Marinas:
There are moorings available and pontoon berthing at Marina Del Ray with stern-to Med mooring available for boats up to 35 meters LOA.
A new bar and restaurant overlook the marina and there are several other resorts and bars on the island, plus a surfing and diving businesses. The marina has supplies and a local produce market is only about 10 minutes from the marina, by motorbike or taxi. Otherwise, most supplies can be obtained from Mataram on nearby Lombok.
Last updated: April 2019
Related Businesses
Lombok Marina Del Ray

Address: Jalan Raya Sepi, Sekotong Tengah, West Nusa Tengarra, Gili Gede Island, South / Central Indonesia - Lombok, Indonesia,

Location 08°45.6' S, 115°55.96' E.

165 meters of brand new western standard pontoons available in 15 meters at MLW. Stern to med mooring is available for... Read More
Places
Gili Gede Island, Indonesia, South / Central Indonesia - Lombok