Previous Page
General Info
Kwandang is a town in North Gorontalo, which lies on the northern Sulawesi arm, known as the Minahasa Peninsula. It is the regency seat of North Gorontola and a medium size port with lots of facilities including a hospital, airport and marine parts and services.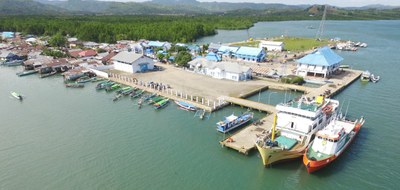 The beautiful island of Saronde with mooring buoys is only 7km away. Saronde Island is the number one tourist destination in this region and is serviced by a sea-taxi from Kwandang taking 30-40 minutes.
Position: 00° 55.40'N, 122° 51.81' E (Saronde Island)
Docking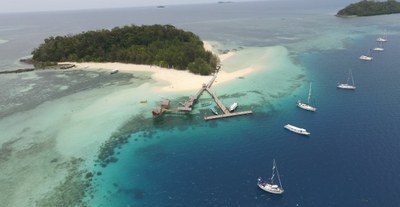 It is possible to anchor off Kwandang town, however, it is recommended to have someone look after your boat if going ashore. Speak with Mrs Mia, who can assist with finding a guard (contact details below under Saronde Island).
There are 15 mooring buoys at Saronde Island, or alternatively, you can anchor at Mohinggito Island nearby which has a protected bay. Mohinggito Island is a marine conservation area.
Peto Alam, who runs Saronde Island, is Mrs Mia's husband. He is very helpful to yachties and is happy to share what he knows about cruising Sulawesi.
Added as new port April 2018.
Related Businesses
Saronde Island

Address: Kwandang / Saronde Island, North / Central Indonesia - Sulawesi, Indonesia,

122o 51' 53.15"E., 0o 55' 34.32" N

15 mooring buoys for visiting yachts. Restaurant. Internet. Mrs Mia can be contacted for free to help with docking... Read More
Places
Indonesia, Kwandang / Saronde Island, North / Central Indonesia - Sulawesi