Previous Page
General Info
Manggar lies on the eastern side of the island of Belitung. It was the centre of Dutch tin-mining in the 19th century and still has many old colonial houses. It is famous for its 'one thousand' coffee shops!
Position: 02° 50.98'S, 108° 17.5'E.
Clearance
This is not a Port of Entry.
See Indonesia Formalities for details on clearing into and out of Indonesia.
Last updated: March 2016.
Docking
Anchorage off the beach at S02 50.84 E108 18.12 but it is likely to be rolly in the SW monsoon, however, there is some protection from the reef. In the NE monsoon protection is better but there is perfect anchorage in the river, which is accessible to yachts drawing up to about 2 metres, over a short bar, depending on the tides.
Enter from seaward between the 2 rock groynes slightly favouring the northern one. There is plenty of room for several yachts just past the fishing boat moorings in 4 metres. There is the talk of a new marina to be built shortly.
The town is easy to access. Land at the ferry dock (near blue roofs) on the Regent's large power boat and walk 300m to the town centre with good market, small supermarkets etc.
Fuel is available from the local service station 2 or 3 km away, but not from the local fish dock which will only supply fishing boats.
Frans from the local tourist office on +6281368338977 speaks good English, can help with fuel etc. and organised a car for an interesting tour. You might even get a free T-shirt!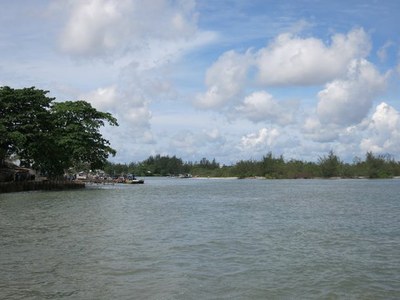 Belitung: © Chris and Lorraine of SV Gryphon
Last updated: November 2013.
Places
Indonesia, Sungai Manggar, Western Indonesia - Bangka-Belitung Islands